September 18, 2017
Congressman G. T. Thompson Visits R. J. Corman Railroad Co. Pennsylvania Lines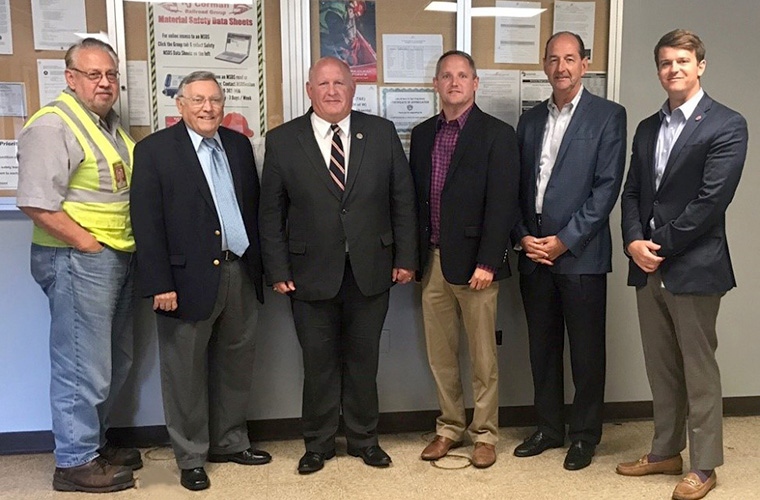 We were honored to host Congressman G. T. Thompson at R. J. Corman Railroad Company's Pennsylvania Lines to meet with company representatives in preparations for the first annual Operation Lifesaver Railroad Safety Week that begins on September 24th. Congressman Thompson is an advocate of short line railroads, and a co-sponsor of the House Bill 721 Short Line Railroad Rehabilitation.
Many topics of discussion took place at the roundtable, one of which was the discussion of the 45G tax credit. By making the 45G tax credit permanent, the BRACE Act, Building Railroad Access for Customers in the Economy, will provide a long-term investment strategy that would allow short line railroads to invest more in railroad infrastructure, thus providing industries with a safer and more competitive mode of freight transportation.
Many R. J. Corman customers were present as well. Representatives from Pennsylvania Grain Processing, Warquier Coal, RES Coal, Bell Resources and River Hill Coal Company joined the congressman and R. J. Corman representatives Doyle Corman, Rocky Adkins, William Downey, Brian Miller, and Tim Potts. The group also discussed regulations in the coal and ethanol industry, and the revitalization of coal over the past 18 months. The R. J. Corman customers present were able to discuss the positive economic impact that short line railroads have on their business and community.
We are grateful for the opportunity to meet with Congressman Thompson and all the companies' representatives. Thank you all for helping us to get a jump start on Railroad Safety Week!