October 5, 2017
Employee Spotlight: John Baker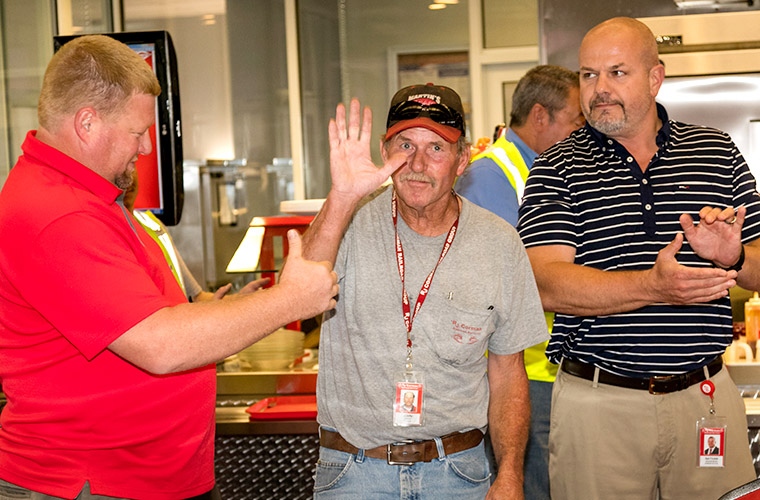 This week's spotlight is John Baker, a delivery truck driver for Railroad Services. John has worked at this company for 12 years! He was nominated for his kind nature and for always striving to make the people around him happier, often with laughter. We are so thankful to have John as a member of our team!
What is your favorite part of working at R. J. Corman?
It would be my coworkers, my supervisors, I think highly of all of them. R. J. Corman is a family. When I come to work, it doesn't feel like a job, but instead, feels like being with friends. Everywhere I travel for the company, the people I encounter are so kind. I appreciate it. The people are a big part of my life, and my favorite part about the job.
How did you first hear about R. J. Corman?
A good friend was working for a subcontractor for R. J. Corman. He heard that R. J. Corman was hiring and suggested that I apply, so I did. I got an interview, and then got offered the job. I have stuck with it 12 years later!
What is your favorite memory of Rick Corman?
My favorite memories of Rick are driving into Nicholasville late in the day or at night and him always being there. I liked to load up and leave when fewer people were there, but no matter what time of day I arrived, he was always there waiting on me. We would talk, share some laughs, and then I would go back to work. He made sure that I had anything that I needed as well. It was a great relationship.
What is the first thing you would do if you won the lottery?
I would donate a good amount to the St. Jude Children's Hospital in Memphis, Tennessee. I would want to help children first - no child should have to go through cancer treatments.
What do you like to do when you're not working?
When I am home, you can often find me working in the yard. I am a workaholic! I like to always be doing something. Sometimes I prefer to just be at work. I enjoy by job and my coworkers.
John's supervisor, Sam White, had this to say about him:
I could never complain about John, it doesn't matter what tasks you through at him, or what you ask him to do, he will do it. He doesn't mess around, you can cross it off your to-do list once you assign the job to John. He is reliable.