January 8, 2020
R. J. Corman Railroad Services, LLC Wins NRC 2019 Large Project of the Year Award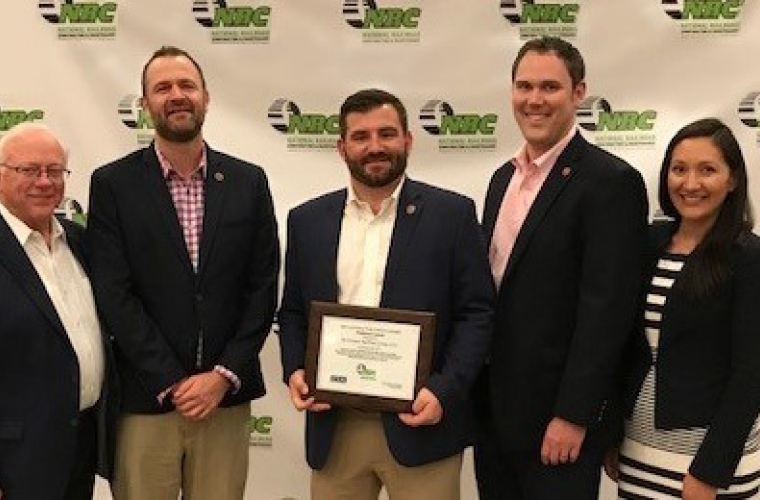 Each year the National Railroad Construction and Maintenance Association (NRC) recognizes exemplary performance in the railroad industry by presenting a series of awards. The NRC 2019 Large Project of the Year Award has been given to R. J. Corman for the company's 2019 Midwest Floods BNSF Napier Project. R. J. Corman was recognized today, January 8th, at the NRC 2020 Conference during a Special Awards Presentation.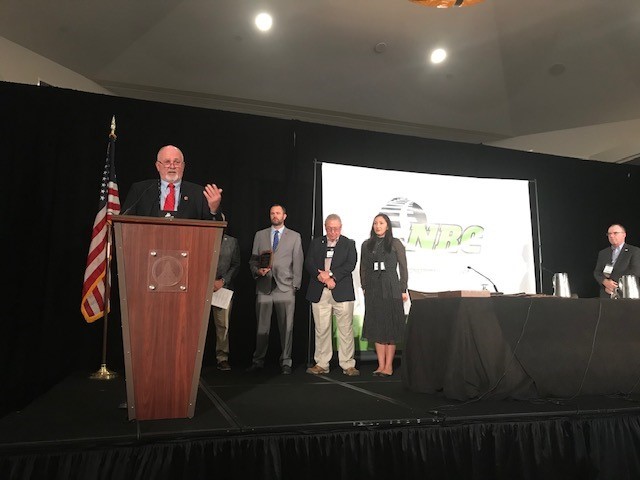 ​
"The nominations submitted for NRC awards this year were particularly impressive," noted NRC President Ashley Wieland. "NRC members and their exemplary employees completed some extraordinary work over the past year with great expertise and dedication. Award winners can be assured they were in great company with the other nominees."
In 2019, R. J. Corman Railroad Services responded to a historic flood event experienced by BNSF Railway that impacted 20 of its subdivisions. BNSF recognized the recovery effort to resume service in a timely manner would require additional expertise and resources, so they engaged R. J. Corman.
Over the next 16 weeks, R. J. Corman crews worked on 77 miles of track from Pacific Junction, Iowa to St. Joseph, Missouri. The company mobilized to clear debris, armor the railroad with rip-rap, raise areas of railbed by up to two feet, install drainage pipes, replace ties, realign the track, install track panels, and tamp the ballast. To address flooded terrain, R. J. Corman implemented an innovative pipe system to divert water away from the railroad, create workable conditions, and to keep the water from rising over other sections of the track.
This project drew upon R. J. Corman's vast resources and expertise to get the many miles of track back to working order in the face of persistent flood waters. In total, 261 employees from 38 divisions of five different R. J. Corman companies worked a total of 131,362 hours, injury free, to repair the significantly damaged 77-mile stretch of track. The company operated 276 pieces of its own equipment as well as 70 pieces of subcontracted equipment.
David Hestermann, Assistant Vice President and Chief Engineer North for BNSF's Central Region, shared this assessment of R. J. Corman's effort:
"R. J. Corman and numerous leadership personnel responded within hours of our urgent request. Together R. J. Corman Leadership and BNSF Railway Engineering Leadership assessed the wide spread situation, (and) developed short-term and long-term recovery plans. R. J. Corman deployed employees and specialized equipment from across the U.S. and began the difficult task of restoring service for operating trains. Many facets of the project executed by Corman were handled in a very professional manner based on expectations from BNSF Railway Engineering Leadership."
R. J. Corman is honored to receive the NRC Large Project of the Year Award. Since the company's founding, R. J. Corman has striven to provide the highest quality service and execution to the railroad industry. Receiving this award attests to the company's commitment to its customers and to first-rate job performance from start to finish.