August 4, 2023
Seventeen R. J. Corman Short Lines Awarded for their Safety Accomplishment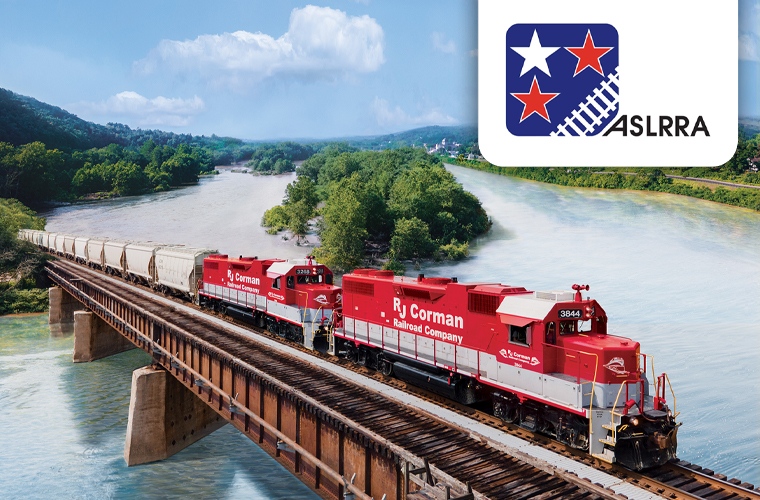 Last month the American Short Line and Regional Railroad Association (ASLRRA) announced a record number of member railroads that qualified for a Jake Safety Award and Jake Safety Award with Distinction. Of these member railroads, we are pleased to announce that 17 R. J. Corman Railroad Company short lines were winners of Jake Awards for their above-industry average safety performance during 2022.
The Jake Award is an annual award presented by the ASLRRA, a group founded in 1913 that represents the entrepreneurial owners and operators of short line and regional railroads throughout North America.
The Jake Awards fall into two categories; the Jake Award with Distinction is awarded to any member railroad with no FRA (Federal Railroad Administration) reportable injuries for the previous year. Whereas the Jake Award is awarded to any member railroad that finished the previous year with an FRA frequency rate less than or equal to the industry average.  
These accolades reflect our company's dedication and commitment to prioritizing safety in all working environments.
We are incredibly proud to congratulate the following short lines for winning 2022 Jake Awards.
Jake Award: 
R. J. Corman Railroad Company/Memphis Line
Jake Award with Distinction: 
R. J. Corman Railroad Company/Allentown Lines

R. J. Corman Railroad Company/Bardstown Lines
R. J. Corman Railroad Company/Carolina Lines

R. J. Corman Railroad Company/Central Kentucky Lines

R. J. Corman Railroad Company/Childersburg Line

R. J. Corman Railroad Company/Cleveland Line

R. J. Corman Railroad Company/Lehigh Line
R. J. Corman Railroad Company/Luzerne & Susquehanna Line

R. J. Corman Railroad Company/Nashville & Eastern Line

R. J. Corman Railroad Company/Nashville & Western Line

R. J. Corman Railroad Company/Owego & Harford Line

R. J. Corman Railroad Company/Pennsylvania Lines
R. J. Corman Railroad Company/Tennessee Terminal

R. J. Corman Railroad Company/Texas Lines, LLC

R. J. Corman Railroad Company/West Virginia Lines

R. J. Corman Railroad Company/Western Ohio Lines