August 30, 2018
R. J. Corman Railroad Services, LLC Successfully Completes Track Maintenance Project for Charlotte Area Transit System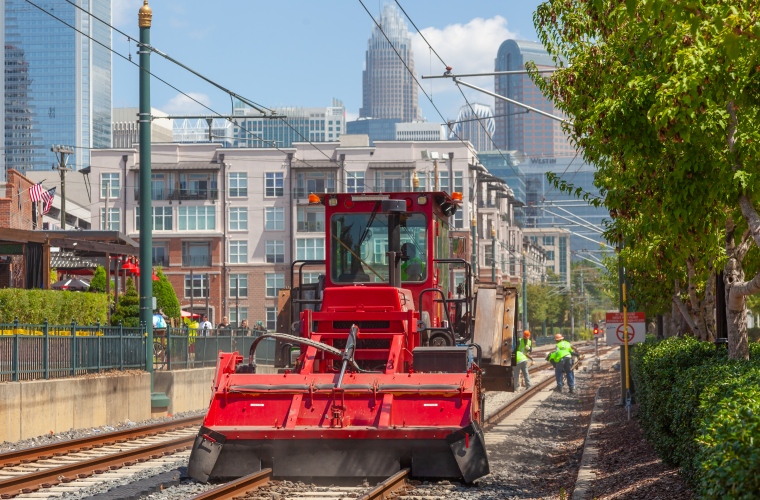 R. J. Corman Railroad Services completed 17.2 miles of surfacing and performed rail adjustments on two curves during a 48-hour uninterrupted shutdown of the Charlotte Area Transit System (CATS) light rail system. R. J. Corman Railroad Services was one of the contractors selected to perform the necessary track maintenance and repairs because of their proven track record of completing jobs on-time, safely and efficiently. This job was no exception; the full scope of the project was completed in 38 hours and without any injuries or lost-time incidents.
While surfacing and rail adjustment jobs are within the scope of services provided by R. J. Corman Railroad Services, this particular job was significant as it marked the first time the company had performed this type of work on a light rail system. Previously, R. J. Corman Railroad Services has performed railroad maintenance and construction work on Class I, regional and short line railroads. The company is equipped, however, with all the equipment and skills necessary to service passenger rail systems.
"We were definitely excited to have been a part of this project," said John Langston, Vice President of Operations for R. J. Corman Railroad Group. "We were prepared, we had the capacity and expertise and the job went very well. There is a lot of opportunity in light rail construction and maintenance and we are ready to take on more of this kind of work. We look forward to working with more remarkable customers like the Charlotte Area Transit System."
This job presented unique challenges: the project needed to be completed in a 48-hour window and the track was located in a densely-populated area. In total, there were 66 employees that worked in three crews on different sections of the line during the shutdown. The three crews utilized approximately 15 pieces of rail equipment, including tampers, rotary dump trucks, welding trucks, and other specialty on-rail equipment. In addition to the surfacing work, rail adjustments were completed on two curves to remediate sun kinks that were present.
"R. J. Corman tamped and regulated the southern alignment on our track in less than 48 hours," said Stephen Newcomb, the Maintenance of Way Manager for the Charlotte Area Transit System. "They maintained an open communication with CATS staff which is important with so many moving parts."
R. J. Corman Railroad Services, LLC has track construction and emergency response locations in 15 states and is a subsidiary of R. J. Corman Railroad Group, LLC. Altogether the company employs more than 1,300 people in 22 states. Other R. J. Corman companies provide a myriad of services to the railroad industry such as: industrial railcar switching, short line railroad operations, track material distribution, signal design and construction, and building eco-friendly locomotives.

For more information about the company, visit www.rjcorman.com or call 859-881-2400.