June 6, 2022
R. J. Corman Railroad Company, LLC Awarded CRISI Grant for Central Kentucky Lines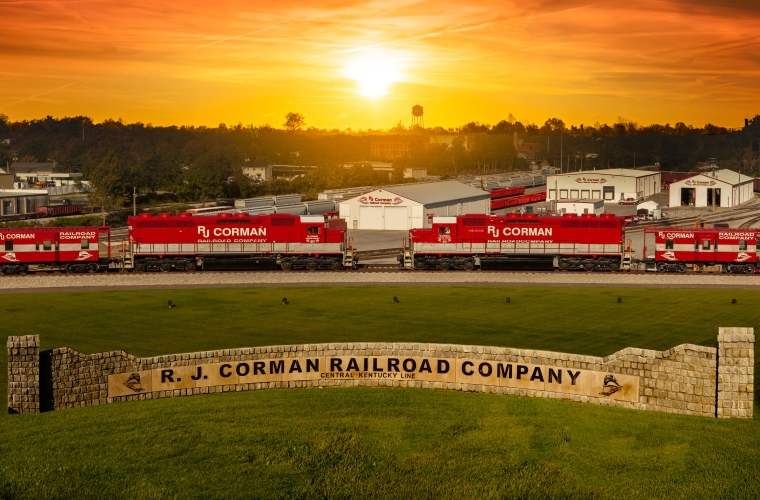 NICHOLASVILLE, Ky - R. J. Corman Railroad Company was awarded a Consolidated Rail Infrastructure and Safety Improvements (CRISI) grant by the U.S. Department of Transportation (DOT) that will benefit the R. J. Corman Central Kentucky Lines (RJCC).
The CRISI Program is a Federal DOT funding initiative for projects that improve railroad safety, efficiency, and reliability. Through this grant, the R. J. Corman Railroad Company will receive a total of $7,380,600 in funds.
R. J. Corman will contribute $4,920,400 as the matching portion for this CRISI grant award. In conjunction with the CRISI grant, R. J. Corman is committed to several other significant investments that will bring this three-fold plan to life.
A new three-track freight rail-to-truck transload yard will be constructed southeast of Frankfort, Kentucky, connecting to RJCC's mainline.
The mainline between Frankfort and Lexington, Kentucky, will be rehabilitated by replacing ties, surfacing the track, and converting segments of bolted rail to continuous welded rail. Alongside the significant track work, several mainline switches will be replaced, and three will be automated.
The RJCC's main yard and transload facility in downtown Lexington will be improved by replacing switches, rehabilitating grade crossing surfaces, rehabilitating track, replacing and improving buildings, expanding bulk material transload storage pads, replacing a truck weigh scale, and paving the truck transload and traffic areas.
"We are grateful for being the first company to be awarded a CRISI grant in the state of Kentucky. The Bluegrass Multimodal Freight Improvement Project is a multifaceted effort that will transform our operations and service to our key business partners in the area," said Ed Quinn President and CEO of R. J. Corman Railroad Group. "R. J. Corman is proud to call Central Kentucky home. We are excited about the significant improvement and development these funds will bring to our company and the community."
"Kentucky is where America's rail, road, and river transportation systems meet. I'm proud to partner with local stakeholders to fund improvements to these important arteries and secure the Commonwealth's place as a national transportation hub. This grant will increase speed, efficiency, and safety on one of Kentucky's keystone rail lines. Those improvements will support jobs and commerce in the Commonwealth for years to come," said U.S. Senate Republican Leader Mitch McConnell (R-KY).
"Expanding and enhancing freight transportation on the R. J. Corman Central Kentucky Lines will be a tremendous boost for commerce in Central Kentucky," said Congressman Barr. "I strongly advocated for this grant project through a letter of support to the U.S. Department of Transportation, and I voted for the funding used to award this grant. I look forward to seeing these improvements fully implemented and the impact they will have on our region."
"We are excited for R. J. Corman Railroad Company on being the recipient of the first CRISI grant awarded in Kentucky. My administration supported this project and would like to thank R. J. Corman for their continued investment in rail infrastructure in the commonwealth. This project will have a positive impact on the Central Kentucky freight economy and we are grateful for the investment from the US DOT in supporting this effort," said Kentucky Governor Andy Beshear.
"This project will provide safety improvements and operational efficiencies that will have a positive impact on the regional economy and supports our mission for a safe and reliable rail transportation network," said Kentucky Transportation Cabinet Secretary Jim Gray.
The construction phase of the Bluegrass Multimodal Freight Improvement Project is scheduled to begin in early 2023.
###
About R. J. Corman Railroad Company R. J. Corman Railroad Company, LLC operates 18 short line railroads in 11 states and is a subsidiary of R. J. Corman Railroad Group, LLC. Altogether, the company employs approximately 1,200 people in 22 states. In addition to short line railroad and switching operations, R. J. Corman companies provide a broad scope of services to the railroad industry, such as emergency response, track material distribution, track construction, and signal design and construction.