January 13, 2020
R. J. Corman Distribution Centers: Lumber Expansion Project to Serve Canfor Corporation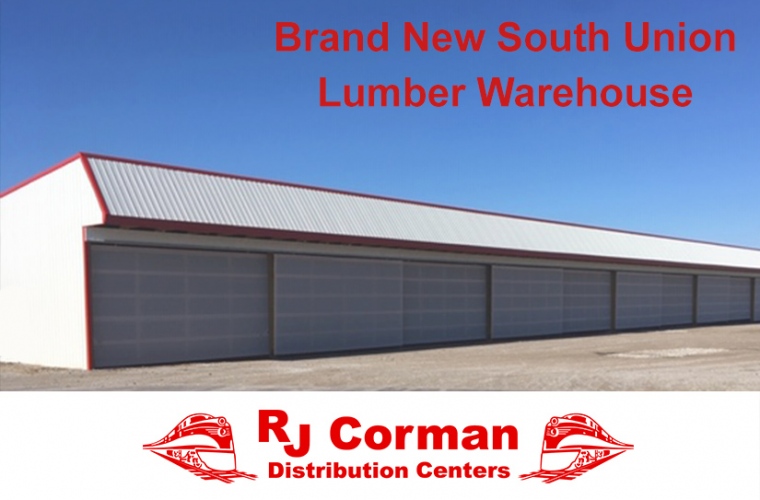 Fall of 2019 was an exciting time for the R. J. Corman South Union Distribution Center in Woodburn, KY. This distribution center primarily handles large coils of steel and aluminum, but the operations there are expanding for a new endeavor that will include softwood transloading, warehousing, and loading.
Canfor Corporation
, a leader in the forest products industry and one of the world's largest producers of sustainable lumber, pulp and paper, was searching for a regional location served by a railroad company that would allow them to reach their customer base more effectively.
Canfor lumber products
are used for a wide range of residential, commercial, and industrial construction.
R. J. Corman has a prime geographic location, the property capacity, and the infrastructure development capabilities to support an operation to make it logistically possible to have inbound lumber deliveries by rail via R. J. Corman Railroad Company/Memphis Line (RJCM) and support outbound deliveries by truck. Lumber often makes its way to lumber retailers in truckload quantities. Yet, before the truckload leg of the journey to a retailer, a supply chain value can be gained by moving large volumes by rail.
R. J. Corman has coordinated with Canfor to bring railcar loads of lumber into the South Union Distribution Center and has constructed a brand new 15,000 square foot warehouse for this enterprise. More employees have been added to the R. J. Corman South Union operation because of the business expansion. A new rail spur has been installed where lumber cars can be stationed for unloading. Specialized concrete pads have been poured for offloading. Specialty material handling equipment will be used to move the timbers. After being stored in the South Union warehouse, the wood will be loaded on the Canfor fleet of semi-trailer trucks for outbound deliveries to their customer base including the area between Nashville, TN and Indianapolis, IN.
"R. J. Corman is proud to work with a great client like Canfor. We are delivering a suite of services that will provide Canfor the cost efficiencies of bulk rail while maintaining their last-mile truck deliveries. This project exemplifies how our broad range of available logistics services allow R. J. Corman to tailor a plan to the client's specific needs using rail, warehousing, trucking and transloading. Canfor now has the ability to service their regional customer base with a creative and cost-effective logistics solution." – Nicholas Spalding, Director of R. J. Corman Material Sales.