Built BY Railroaders FOR Railroaders.
814-835-2212
R. J. Corman Railpower Locomotives eco-friendly products offer flexibility, performance, and reduced fuel usage to improve your operations. Railpower's RP Series locomotives are supported by experienced staff, providing service that surpasses customer expectations.
With our mature, service-friendly technology and #1 customer service response, Railpower Locomotives makes a positive impact on your daily operations.
RP Series Locomotives: Service, Performance, Flexibility & Experience
RP Series Locomotives In The Industry
Since the delivery of our 9th Railpower GenSet in 2012, M&ET's operations are solely run by RP Series locomotives. These multi-purpose switchers allow us to easily transition from mainline duties to switching operations, all-the-while greatly reducing fuel consumption, as well as benefitting our Operators and our Neighbors through significantly reduced noise and emissions.
-Ken Beard, Chief Operating Officer, Modesto & Empire Traction Company
"Sierra Northern Railway put its first RP Series GenSet locomotive into service in 2012. In addition to the RP Series' environmental and operational benefits, the unique, modular RP20BD kit provided the benefit of using SNR property and staff to assemble the locomotive. Throughout the final assembly, SNR personnel benefitted greatly from the knowledge gained about the product prior to the first day it ever went into operation. Since then, SNR assembled a second kit and plans to assemble more in the future."
-Dave Magaw, President, Sierra Northern Railway
"The Montreal Port Authority chose to repower its aging switcher fleet with eco-friendly GenSet locomotives to reduce pollutants and noise in the area in which the units operate. MPA chose to purchase RP Series GenSet locomotives for their unique ability to interface with our existing slug units, as well as drastically reduce emissions and fuel with their Power Plus Control System and EPA-certified clean engines. During an independent fuel study, MPA's RP Series GenSet fleet demonstrated a 54% reduction in fuel consumption when compared with the conventional units the RP Series replaced."
-Daniel Dagenais, Director of Operations, Montreal Port Authority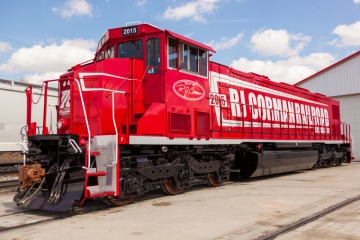 R. J. Corman Railpower Locomotives: Bluegrass One
Bluegrass One is an eco·friendly genset locomotive that was built entirely in the state of Kentucky. It was designed by R. J. Corman Rail power Locomotives and built ... Read More