May 7, 2018
R. J. Corman Railroad Services: Derailment in Lebanon Junction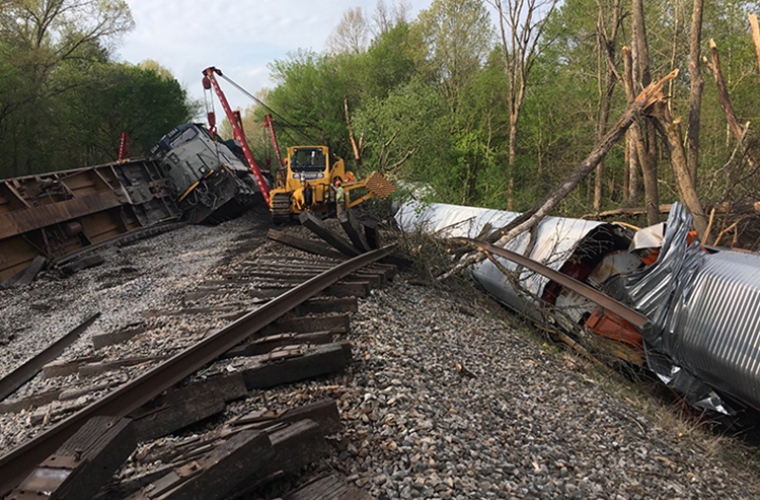 May 1, 2018, In Lebanon Junction, Kentucky, 18 loaded auto racks and two locomotives derailed in an accordion-style down an embankment and had a double main line blocked. With the urgent need to clear the derailment and reopen the double main, the customer called R. J. Corman who has strategically placed their Railroad Services divisions in order to respond to emergencies quickly. R. J. Corman was able to get two full divisions, and equipment from a total of four divisions ordered and on-site quickly, with additional employees from two more divisions ready to act as relief.
Limited accessibility to the site was the primary challenge for the track clearing and restoration efforts. The south end of the derailment was reachable only by walking approximately three-fourths of a mile down the track. On the north end, a wooded field had to be cut through, a small road had to be widened, and a few trees had to be removed. The entire area of the derailment was swampy, making it difficult to maneuver the equipment.
Despite the challenges, divisions from Nashville, Columbus, Nicholasville, and St. Louis worked non-stop for 18 hours, and were successful in clearing the mainline which allowed train traffic to resume. R. J. Corman Railroad Services performed all the track remediation work, and installed 50 pieces of track panel to repair about 900 feet of double-main track. A majority of the work was completed within 48 hours, with only the task of hauling rock off the site remaining thereafter.