May 9, 2018
R. J. Corman Railroad Services: A Derailment in Monahans, TX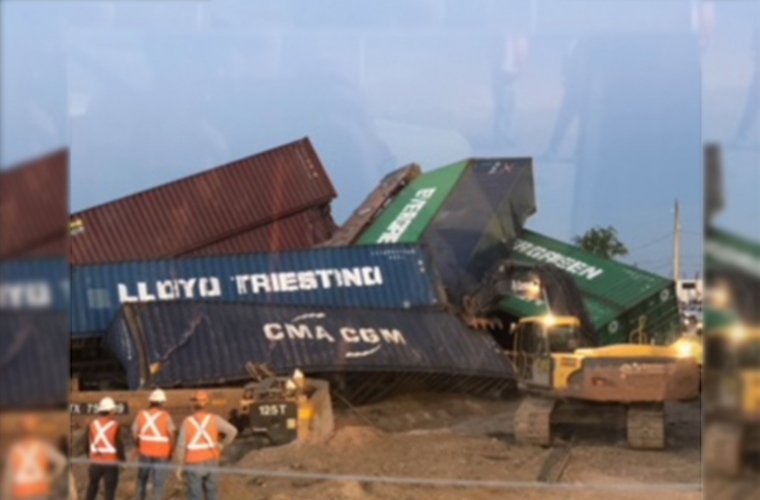 A train was parked on a siding adjacent to the mainline in Monahan, TX on April 18, 2018 when the rail underneath broke, causing a loaded steel pipe car in the middle of the train to lean heavily toward the mainline. The main line was a 70-mph track, and when a second train proceeded by, it hit the pipe cars and derailed, simultaneously pulling the pipe cars with it. A total of three locomotives, and more than 30 intermodal container cars were derailed along with a gondola and two flat cars, all loaded with steel pipe. The cars and locomotives were pushed into an accordion-style tangle.
R. J. Corman Railroad Services was only 250 miles away, in El Paso, Texas, and they were the first emergency crew to arrive on the scene. Emergency crews and equipment from Tucson, Arizona also arrived at the derailment to assist. The job required multiple sidebooms, a wheel loader, an excavator and a skid steer. The force of the impact was so great that it twisted the cars up into an intertwined mass of metal. Separating the cars proved to be extremely difficult. In order to clear the derailment and open the mainline, the emergency crews had to pull the cars apart. All the salvageable containers had to be retrieved, staged and loaded before being hauled away. There was also a tremendous amount of debris that had to be cleaned up as well as post-derailment cleanup and site remediation.
R. J. Corman Railroad Services worked around the clock for 40 hours, with only a four-hour break, and completed all necessary services. The mainline was open within 24 hours, and the remaining site remediation and container removal was finished by May 9th.