August 1, 2018
R. J. Corman Railroad Services: R. J. Corman Responds to Derailment in Doon, IA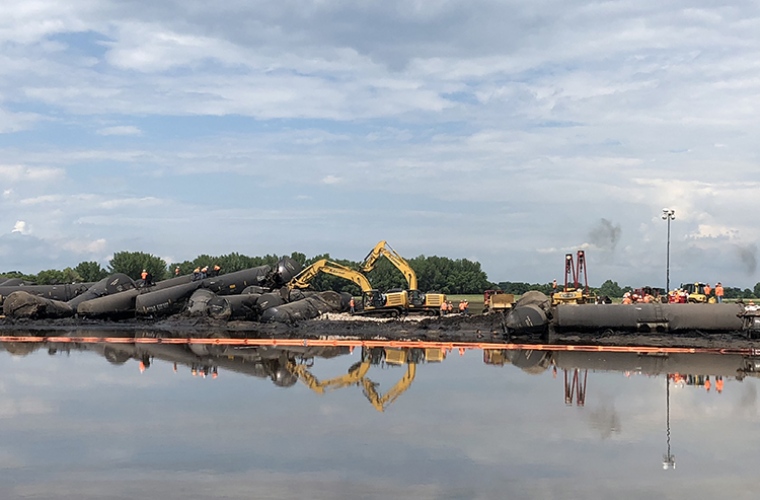 In June 2018, flooding in the flat plains of Iowa weakened a portion of track on a mainline. Unknowingly, a train carrying loaded crude oil tank cars began traveling over the area and the track gave way. Thirty-five crude oil cars derailed, and 16 were punctured or ripped open.
The derailment project began on June 22 at 6 a.m. and four R. J. Corman Railroad Services Emergency divisions responded with three trackhoes, four sidebooms, five loaders, one skidsteer, sixteen light plants, and three mechanic's trucks to tackle the job. R. J. Corman was called upon because of their rapport from previous emergency situations, and despite their division locations being located farther than the competition, they were the first on-site to respond.
Seventeen cars needed to be pulled off the track and salvaged, and two were to be re-railed. The flood that had caused the washout had not entirely subsided by the time work was to begin. The area was submerged in several feet of standing water. Sandbags were placed around one side of the wreck and the excess water was pumped out. Even though the water was removed, the ground was still soft and a concern was that the heavy equipment would become stuck and sink. Before any work could be done, R. J. Corman had to build a road that could withstand the weight of the equipment.
On the 3rd night of work, another large storm came through the area. At the first sign of lightning, R. J. Corman stopped the job, and everyone had to seek shelter. A meeting was held to discuss the condition of the road that was build, and whether or not it would be washed out because of the large amounts of rain. Once the storm passed, the road was inspected and deemed durable and safe to allow for work to resume.
By June 25, the cars had been cleared and the mainline was operational again. R. J. Corman Railroad Services stayed on-site to continue the track remediation for two additional days. In addition, they performed environmental work through the end of July.
R. J. Corman was able to provide help to the customer in three departments. First, they cleared the mainline in a little over two days. Then, in two more days, the track repair was completed. Finally, R. J. Corman was able to stay on site to help remediate any environmental damage that the derailment had caused. R. J. Corman completed the job in a timely fashion with no injuries or DOT violations.