July 6, 2020
Bourbon Trail Connection to Rail: R. J. Corman Serves One of Kentucky's Finest Distilleries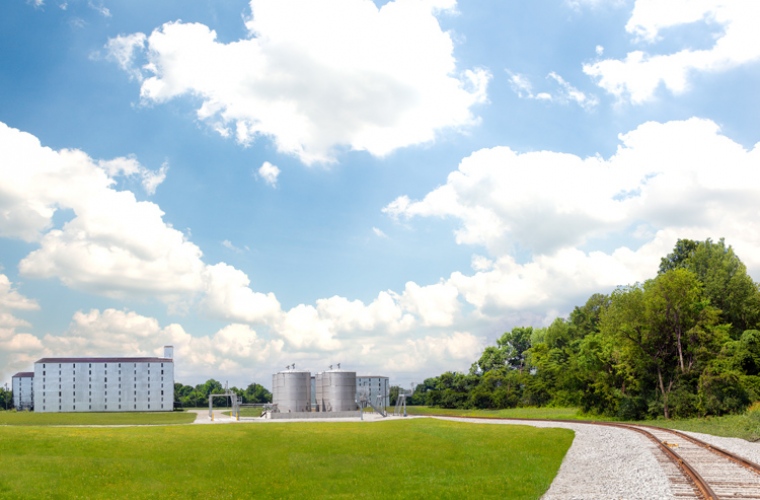 As the first short line acquired by the company, R. J. Corman's Bardstown Line has long served Kentucky's second oldest city that is trademarked as the Bourbon Capital of the World®. Bourbons named after Elijah Craig, Henry McKenna, and Evan Williams are some of the distilled spirits that make this small town famous for American whiskey. R. J. Corman is excited that the renowned Heaven Hill Brands, which is part of the Kentucky Bourbon Trail and produces these namesake spirits along with many others, has now partnered with the Railroad Company.
If you were to spot R. J. Corman's locomotives along this short line railroad as they weave through beautiful countryside, you might see large tank cars in the train lineup. These tankers are likely filled with the makings of Black Velvet Canadian Whisky, the second bestselling Canadian whisky in the world named for its velvety smooth taste. Heaven Hill acquired Black Velvet in 2019. This whisky is imported and bottled in Bardstown, Ky. R. J. Corman ensures that it completes the last leg of the journey from Southern Alberta, Canada into the heart of the Bluegrass State.
The last portion of track that the railcars roll over was recently installed by R. J. Corman to take the trainloads right up to the gates of Heaven Hill. R. J. Corman constructed a brand-new 750 ft. rail spur off the railroad's mainline to extend to the grounds of Heaven Hill. The communication and teamwork between Heaven Hill and R. J. Corman has been excellent from the beginning of this new endeavor. R. J. Corman's new rail spur was completed within 3 months of Heaven Hill's decision to move forward with the project, which is an extremely fast timeline. Heaven Hill was proactive and decisive in the efforts to jump start this transportation infrastructure project. Additionally, Heaven Hill has constructed a transloading site with storage capabilities to hold liquid in large tanks when it is offloaded from railcars.
Since R. J. Corman is a one source service provider for all aspects of railroading, the company provided the seamless coordination necessary from multiple business divisions to make the new logistics vision a reality. The overall project required coordination between R. J. Corman teams from Commercial Development, Railroad Company Engineering, and Railroad Services Construction. The R. J. Corman teams worked together expeditiously to design the track, engineer a grounding system, and then construct it in place. This swiftly completed project allowed the Railroad Company to provide transportation services quickly, enabling Heaven Hill to move forward with product-to-market strategies.
R. J. Corman is proud to work with a great company like Heaven Hill. Bourbon is part of Kentucky culture and pride, and the spirits industry provides countless jobs in the region. There is much excitement around the potential for even more new business as a result of this partnership. There is also possibility for fortified wine, brandy, and rum originating from different states and even different parts of the world to be transported on this rail line.
"Heaven Hill has been great to work with, and we look forward to meeting their transportation needs. This is an exciting time to become more involved in the bourbon industry as there has been consistent growth in demand for distilled spirits over the past several years. This unique industry is part of Kentucky heritage. R. J. Corman shares Kentucky pride as the company was founded in and is still headquartered in Kentucky. Just as Heaven Hill is committed to producing and distributing the highest quality products, R. J. Corman is committed to providing the highest quality service and execution in the railroad transportation industry." – Ray Goss, R. J. Corman Railroad Company President