May 17, 2018
Congressman Visit and KBT in DC – R. J. Corman, Transportation and Government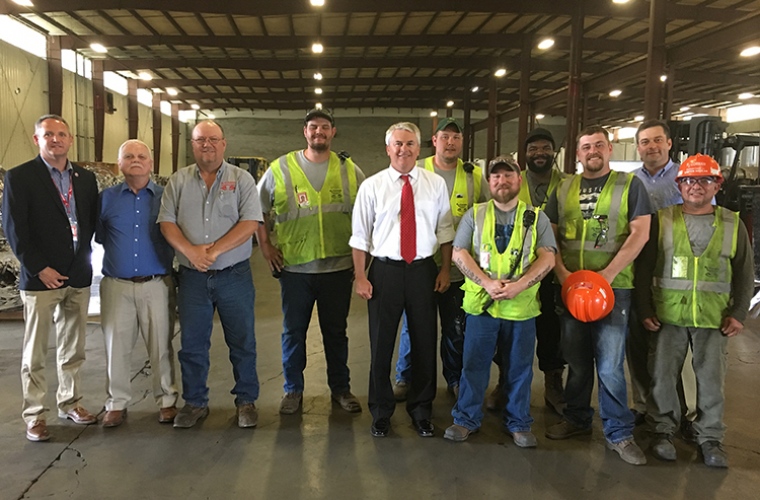 On May 16th, Congressman Jamie Comer visited R. J. Corman's South Union Distribution Center. R. J. Corman Railroad Group President and CEO, Ed Quinn was in attendance with R. J. Corman Railroad Company President, Brian Miller, the Government Affairs and Economic Development Manager, William Downey, Commercial Development Manager, Derrick Wynn, and the South Union Distribution Center's Manager, Bobby Guffy. Also in attendance were Congressman Comer's Chief of Staff and District Director, along with company representatives from Logan Aluminum and Precision Strip.
During the Congressman's visit, the group discussed upcoming legislation, President Trump's agenda, tariffs, and infrastructure funding. R. J. Corman is grateful for the support of Congressman Comer for the railroad tax credit 45G, and appreciated the time taken by Comer to visit some businesses in his district. He visited with the rest of the R. J. Corman employees at the facility when he toured.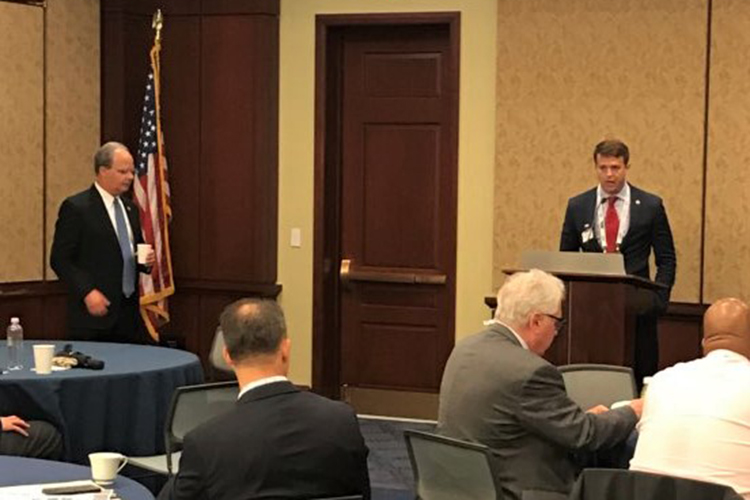 ​
​
Following the visit, William Downey headed to Washington, D.C. as a representative for R. J. Corman Railroad Group on the Kentuckians for Better Transportation (KBT) Board of Directors. Federal funding for infrastructure was the key message and theme of the D.C. Fly-In, and the need to continue to invest in transportation networks and infrastructure. During the trip, KBT met with representatives of the Department of Transportation, including Operations Director Todd Inman and Secretary Elaine Chao. The Secretary spoke about infrastructure and transportation funding including the re-branding of T.I.G.E.R. grants which are now called the B.U.I.L.D. grants: Better Utilizing Investments to Leverage Development. They also met with the Senate Majority Leader, Mitch McConnell, and his staff, followed by a reception and dinner where they were joined by some of the Kentucky Congressional delegation.
The next day, the KBT went to Capitol Hill and listened to Kentucky Transportation Secretary, Greg Thomas, as he discussed the cabinet's support of legislation that would increase revenues to help fund infrastructure projects in the state. Five of the six Kentucky Congressmen spoke to the group including: James Comer, Brett Guthrie, Andy Barr, Thomas Massie, and John Yarmuth. William Downey had the honor of introducing Congressman Brett Guthrie from KY's Second Congressional District" during the fly-in.