November 16, 2017
Lieutenant Governor Jenean Hampton Visits R. J. Corman Headquarters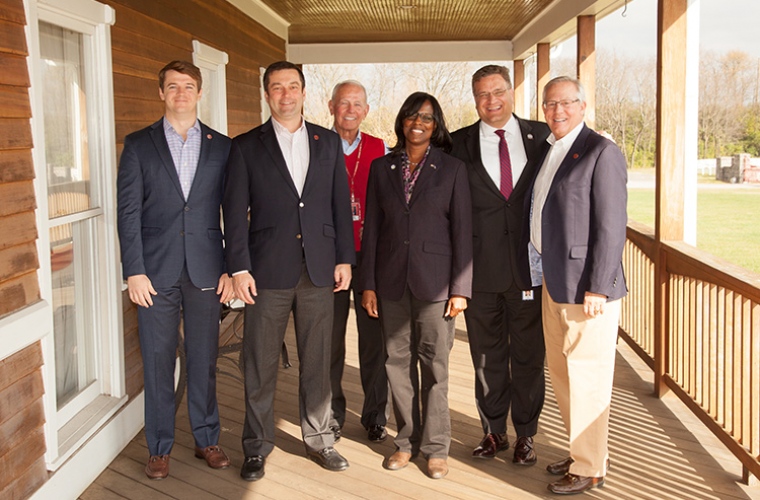 We had the opportunity to host Lieutenant Governor Jenean Hampton and her Chief of Staff, Steve Knipper at R. J. Corman Headquarters in Nicholasville, Kentucky. Over lunch, she met with the company President and CEO, Ed Quinn, the Senior Vice President of Commercial Development, Noel Rush, Chairman of the Board, Fred Mudge, and the Government Affairs and Economic Development Manager, William Downey.
During this time, they discussed R. J. Corman Railroad Group, the railroad industry, transportation, funding, and economic development. One topic of note was our short line railroads, and the impact railroads have on transporting goods across Kentucky. Improved infrastructure, particularly railroads, is essential for Kentucky and funding is needed to improve roads, bridges, and rails. Transporting goods via rail keeps big trucks off the roadways, thus making them last longer. Better infrastructure all around would help to bring more business to the Bluegrass State, leading to more economic development.
Also discussed with the Lieutenant Governor was workforce development in the state. Recently, R. J. Corman has been working on developing a partnership with the state Labor Cabinet to establish an apprenticeship program at R. J. Corman Railroad Group. This program would help us to work with students of trade schools to help them obtain more knowledge and experience, and help the company find skilled and knowledgeable employees. Finally, the emergency response aspect of our company was discussed. R. J. Corman Storm Team provides relief efforts to the railroad industry during severe weather and natural disasters. Potential opportunities were mentioned about how R. J. Corman could aid the state office of Emergency Management in the future.
Along with the meeting, Lieutenant Governor Hampton went on a tour of the R. J. Corman Headquarters where she met with several of our employees in our shop facilities on Jay Station. She had the opportunity to talk with our employees and see some of the people who work hard to make our equipment look good and perform well.
We are thankful for the opportunity to meet with Lieutenant Governor Jenean Hampton and her Chief of Staff, Steve Knipper. Thank you both for taking the time to discuss important topics in our industry!