December 4, 2020
R. J. Corman Closes Deal for OHRY, LRWY, and LS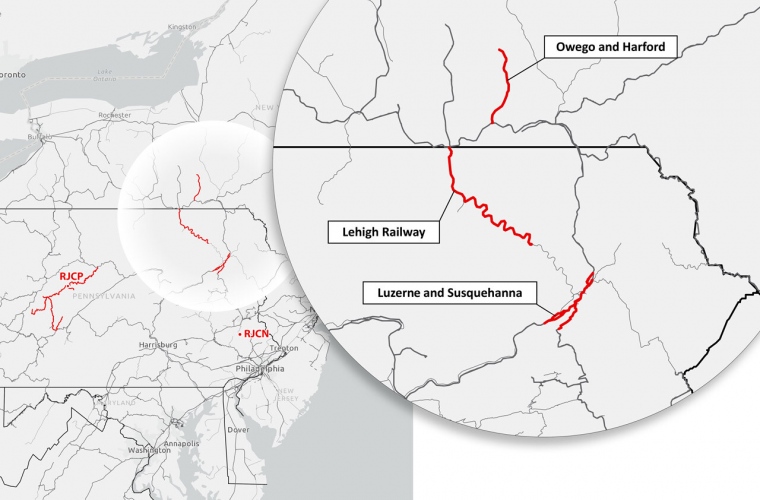 R. J. Corman Railroad Company has completed its anticipated acquisition of the Owego and Harford Railway (OHRY), Lehigh Railway (LRWY), and Luzerne and Susquehanna Railway (LS) short lines, effective November 30. The acquisition increases the total numbers of short lines under the R. J. Corman banner to 17 and expands the transloading services of the company with the integration of TranZ sand transload.

The three short lines and related entities were founded by Steve May and operate in New York and Pennsylvania, hauling a variety of commodities such as sand, scrap, feed products, plastic, propane, and wood products. The lines interchange with Norfolk Southern Railway Company and Reading Blue Mountain and Northern Railroad and handle approximately 14,000 railcars annually.

"We are excited to reach the finish line of this deal and to welcome the accomplished team of employees to our family," said Ray Goss, president of R. J. Corman Railroad Company. "Over the past few months, we have been learning the operations of the new companies and are confident in a smooth and effective transition for our customers." R. J. Corman Railroad Group, the parent company to R. J. Corman Railroad Company, was founded in 1973 as a railroad construction company. The company, through its dedication to providing best-in-class service and innovation, quickly expanded into serving a wide-range of facets in the railroad and related industries, including emergency response, signaling, material handling and distribution, warehousing, transloading, and owning and operating short line railroads. Having established itself as a premier service provider to the rail and related industries, the company has continued to grow organically as well as through capital investments and acquisitions. Most notably, in the last five years R. J. Corman has acquired seven short line railroads, started 14 new industrial switching divisions, and expanded its distribution centers and transloading operations on its short lines.

"Our businesses have a proven reputation in the railroad industry as the premier service provider for railroad construction, emergency response, and related rail services," said Ed Quinn, president and CEO of R. J. Corman Railroad Group. "Similarly, through the years, and thanks to our incredible team of employees, we have established ourselves as a safe, efficient, and customer-first provider of short line rail service, railroad switching, and related services. We are pleased with the strategic growth we have effectuated over recent years and look forward to being a long-term partner for shippers and railroads across the US."

About R. J. Corman

Altogether, R. J. Corman Railroad Group, LLC employs approximately 1,500 people in 23 states. Its subsidiary, R. J. Corman Railroad Company, operates 17 short line railroads in 11 states. In addition to railroads, industrial switching and transloading operations, R. J. Corman companies provide a broad scope of services to the railroad industry such as emergency response, track material distribution, track construction, and signal design and construction.