June 12, 2017
R. J. Corman Railroad Company, LLC Celebrates 30th Anniversary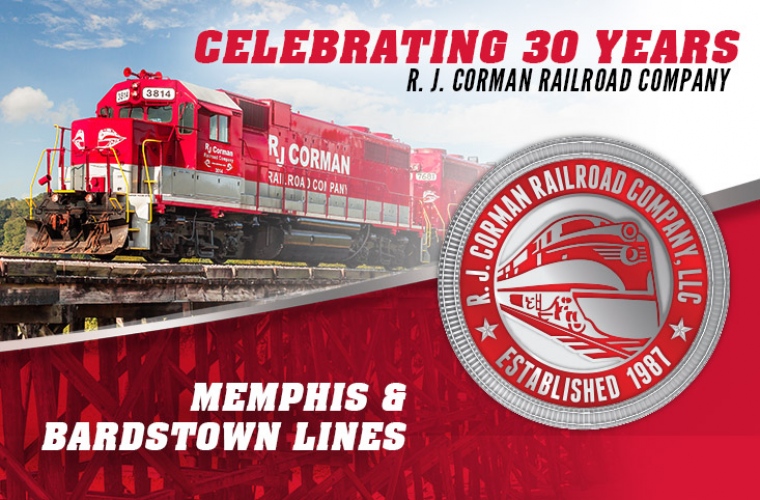 NICHOLASVILLE, Ky. – R. J. Corman Railroad Company, LLC is commemorating its thirtieth anniversary this year. In January of 1987, R. J. Corman's founder, Rick Corman, began the company with the acquisition of the Bardstown Line. In August of the same year, he purchased a second 100-mile short line, the Memphis Line, which operates from Clarksville, Tennessee to Bowling Green, Kentucky. These two acquisitions were the beginning of what has become a nationally recognized group of short line operating companies.
"I feel privileged to serve as the president of such a successful company," Brian Miller, President of R. J. Corman Railroad Company, LLC, said. "Mr. Corman's entrepreneurial spirit and can-do attitude have paved our road to success and continue to push us as an organization to think innovatively in order to meet the needs of our customers."
Today, R. J. Corman operates 11 short line companies in nine states totaling nearly 1,000 miles of track. The largest railroad in the R. J. Corman system is the Pennsylvania Lines, consisting of 243 miles of track which run through the ridges and valleys of north central Pennsylvania. R. J. Corman also operates the Tennessee Terminal Railroad, which interchanges with BNSF Railway in Memphis, Tennessee. R. J. Corman celebrated the 10th anniversary of this terminal in March 2016. R. J. Corman's Central Kentucky Lines consist of nearly 150 miles track running from Lexington to Louisville, Kentucky. These lines service 31 customers and interchange with CSX Transportation and Norfolk Southern. In August 2015, R. J. Corman purchased a 78-mile railroad in North and South Carolina and leased 14 connecting miles from Horry County, South Carolina, for which they received all necessary Surface Transportation Board authority to begin operations on the lines. Last year, R. J. Corman was awarded a USDOT TIGER VIII grant to carry out an extensive rehabilitation project on this railroad.
R. J. Corman Railroad Company's success is illustrated by the numerous awards it has received since its establishment. Most recently, in 2015, they were selected for CSX Transportations' Short Line Award. Two years earlier, they were recognized with the Argus Rail Win Win Award. The operating company has been awarded the American Short Line and Regional Railroad Association's (ASLRRA) Jake Award with Distinction for nine consecutive years and received seven ASLRRA Marketing Awards.