February 16, 2022
R. J. Corman Railroad Group Donates More Than $43,000 for Cancer Research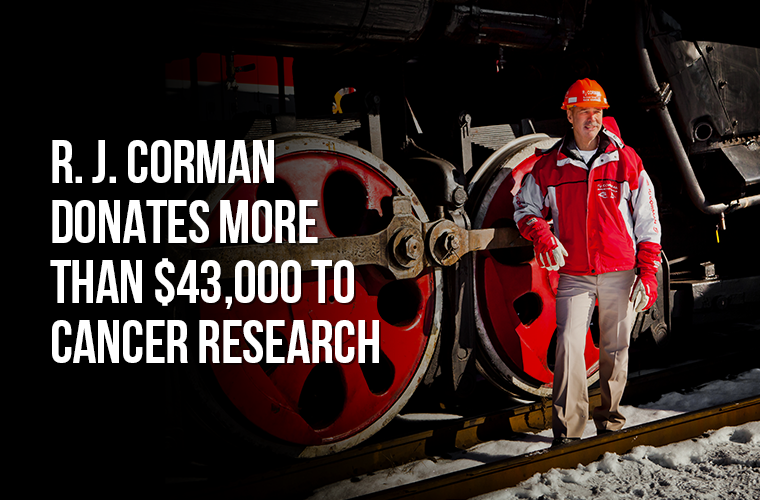 Every year R. J. Corman Railroad Group contributes to the Dana-Farber Cancer Institute in honor of our late founder Rick Corman. The relationship between the two institutions spans over 20 years and is deeply ingrained in R. J. Corman's history and vision of generosity.
R. J. Corman Multiple Myeloma Foundation
After collapsing during a run, our founder, Richard J. "Rick" Corman, was diagnosed with multiple myeloma in 2001. Multiple myeloma is an incurable form of cancer that attacks the plasma cells inside the bone. According to the American Cancer Society, this form of relentless cancer affects almost 35,000 people a year. After the initial diagnosis, Mr. Corman began looking for the best possible treatment, finding the leading center for treating that type of disease in Harvard's Dana-Farber Cancer Institute.
At the Dana-Farber Institute, Mr. Corman met who would become his primary physician during his lengthy battle against cancer, world-renowned cancer researcher Dr. Paul Richardson.
For the next twelve years, Dr. Richardson and his team at the Dana-Farber Institute ensured that Mr. Corman received the best and most innovative treatment available.
Each year that they kept Mr. Corman alive, he generously donated funds for more research at the institute through the foundation that today bears his name, the "Richard J. Corman Multiple Myeloma Fund."
The Commitment Today
After 12 years of battling cancer, on August 23, 2013, Mr. Corman passed away at his home in Nicholasville, KY. Thanks to the treatment received at Dana-Farber, he lived nine years longer than initially predicted in his diagnosis, proving the importance of supporting groundbreaking cancer research.
Honoring our founder's legacy and generosity, R. J. Corman Railroad Group donates a substantial sum to the Richard J. Corman Multiple Myeloma Fund every year. These funds support committed researchers like Dr. Richardson to provide patients with the best care possible while advancing tomorrow's cures for Multiple Myeloma.
In 2021, R. J. Corman employees donated over $14,000, and this year the company generously matched that sum. Additionally, as a gift in honor of our friends and customers, the company gave $15,000 more this past Christmas, making it a contribution of more than $43,000.
We are thankful for our founder's legacy of generosity that continues to live on in his family, company, and employees.
To learn more about Multiple Myeloma please visit the following link: Dana-Farber Cancer Institute | Multiple Myeloma