December 30, 2019
R. J. Corman Railroad Services Receives Supplier of the Year Award from The Belt Railway Company of Chicago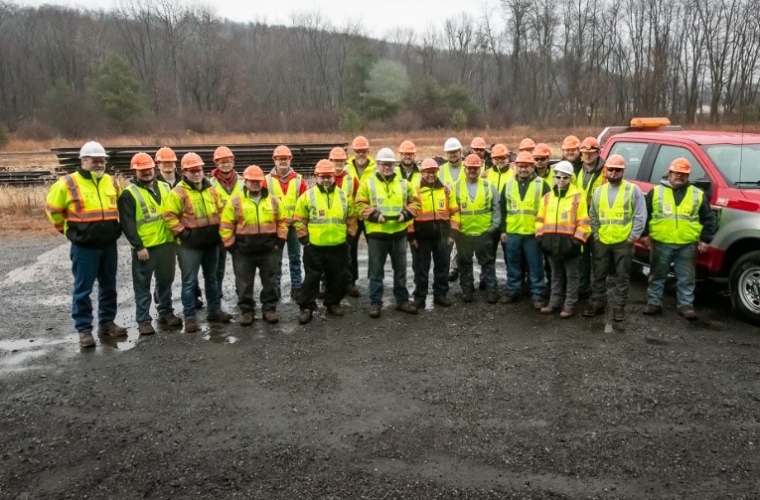 An outstanding job by one of R. J. Corman's Railroad Services construction teams has earned the company recognition as Supplier of the Year from The Belt Railway Company of Chicago (BRC). R. J. Corman has been working with The Belt Railway Company for over 2 decades and is honored to receive such a recognition from this great switching terminal railroad.
Over a span of about 5 months in the summer of 2019, the construction crew installed over 58,000 ties along with additional tie plates and rail anchors at The Belt Railway receiving yard in metro Chicago. Using a work train, the R. J. Corman crew was able to efficiently remove old ties and install new material. Production goals on this job were exceeded, and the goal for daily average tie installation was surpassed. The customer need was met when The Belt requested that more work be done on the yard than initially planned. BRC was very involved in the progress of the work and did a great job communicating with the RJC team. The Belt provided the needed track time for the crew to complete the work efficiently and safely.
"Right out of the gate, we asked for more! We approached R. J. Corman about how to increase our overall production for 2019. We wanted to know what we could do together to help attain higher goals from previous years where the daily averages of installing ties hovered around 500 a day. In some pre-production meetings, the BRC team met with R. J. Corman's front line leaders to proactively address all of the concerns, and this teamwork ultimately delivered a daily production average of 1,104 ties per day! Not only did these guys install over 58,000 ties, they changed out over 110,000 tie plates, installed 120,000 rail anchors, and provided the quality that the BRC was looking for. This group demonstrated that with joint collaboration, weekly production communications after every cycle, working together, and never saying 'no, that can't be done' - anything is possible. That is why we have named R. J. Corman Supplier of the Year." – Aleksander Kurec, Belt Railway Company of Chicago Terminal Engineer
One of R. J. Corman's core values since the company began over 40 years ago is "Customer First." The ability of this crew to adapt to customer needs and deliver superior service and execution showcased RJC employees' continued dedication to this value. This project also promoted a great renewed relationship with a longtime customer. R. J. Corman recognizes the exceptional work performed by the construction crew and looks forward to working with The Belt Railway Company of Chicago for years to come!