January 19, 2023
R. J. Corman's Cary Pickerell honored as one of Railway Age's Fast Trackers in the Railroad Industry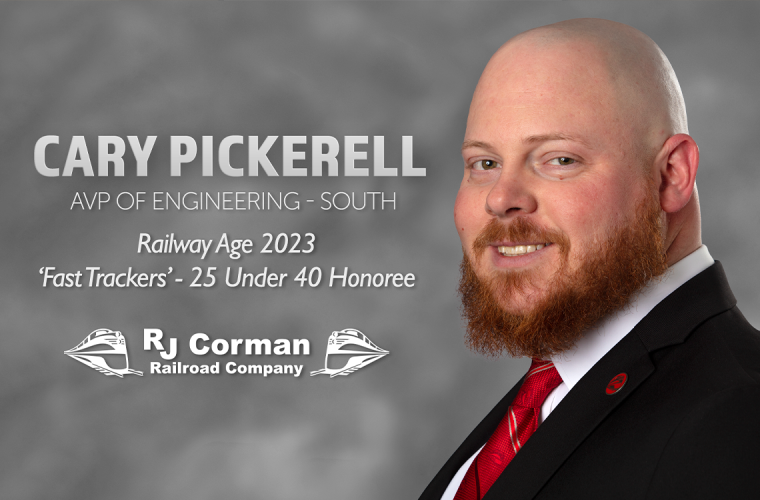 R. J. Corman Railroad Company's AVP of Engineering - South, has been honored as one of Railway Age's 25 under 40 'Fast Trackers.'
Established in 2016 by the railroad industry magazine 'Railway Age,' the annual awards are presented to railroaders under the age of 40 in the United States, Canada and/or Mexico for making an impact in their respective fields or within their companies.
"Our program honorees represent the strength and growth of our industry and the 'best of the best,'" said Railway Age Publisher Jonathan Chalon.
Cary has been part of R. J. Corman for more than ten years and has held numerous key positions in the company's Engineering Department with increasing responsibility. He started his career at R. J. Corman as Assistant Track Inspector in 2011. Today, Cary is R. J. Corman Railroad Company's AVP of Engineering for the Southern Region. In this role, he manages and consults within the Engineering department for different projects and leads customer relations across Southern region railroads and industrial facilities owned or operated by the company.
Cary is a reliable leader and co-worker who is always willing to offer support and assist his team members in any way possible. He does so by connecting them to company resources, key people, and providing guidance. Cary also has a special understanding of the needs, insights, and perspectives of someone with boots on the ground.
Congratulations, Cary!