July 1, 2021
R. J. Corman's Central Kentucky Line Wins ASLRRA President's Award for Safety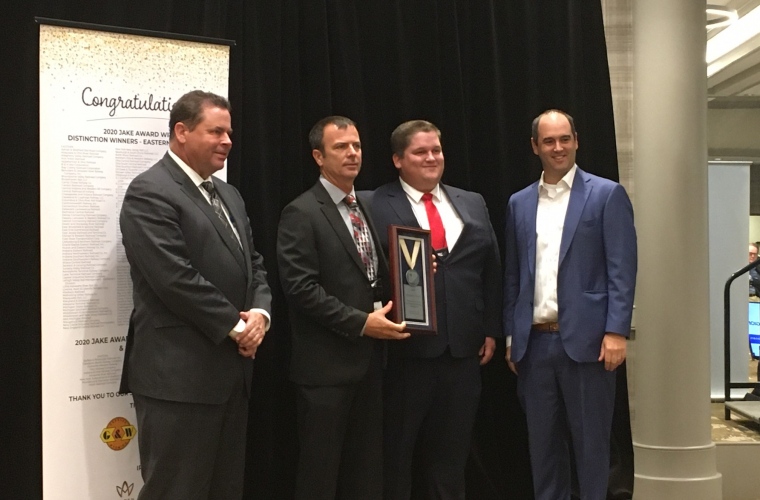 On Tuesday, June 22, the American Short Line and Regional Railroad Association (ASLRRA) awarded the R. J. Corman Central Kentucky Line (RJCC) the prestigious President's Award, which recognizes outstanding safety records amongst the Association's many members.
Founded in 1913, the ASLRRA represents its members, more than 600 operators, and owners of short line and regional railroads in legislative and regulatory matters. These railroads exemplify a vital part of America's transportation infrastructure and economy, close to 30 percent of the national network and often the first and last mile connection between producers and final consumer.
Every year the ASLRRA, during its Regional Meetings, honors rail line operators and owners with the best safety records the President's Award, a distinction created to recognize performance leaders in safety standards that have rates below the industry average. The winners are selected based on the Federal Railroad Association (FRA) accident-incidents reporting metrics of the year.
This year, the R. J. Corman's Central Kentucky Line, which covers nearly 150 miles and runs through six different counties in the state, was honored with this prestigious award in the Southern Region category. The RJCC presented below the industry incidents rates for 150,000 to 250,000 man-hours worked for 2020. This award confirms the company's utmost commitment to safety, one of R. J. Corman's "Big Rocks", the five pillars created by its late founder, Rick Corman, as a vision for success. Maintaining safety standards at this level takes a high degree of commitment to safe operations, buy-in from every team member, and constant development and improvement of a corporate safety culture that permeates throughout the entire organization.
"Safety is the number one priority on every railroad. Our member railroads are focused not only on compliance, but on creating a strong safety culture where each employee feels accountable for safety, day in and day out," said Chuck Baker, President of ASLRRA, in the press release that presented this year's winners.
"We are extremely honored to receive the President's Award by the ASLRRA. At R. J. Corman, safety is our number one priority, and this accolade comes as a confirmation of the constant dedication to safety throughout our entire operations. I am incredibly proud of the Central Kentucky Line team members that, with tremendous determination and teamwork, are committed to ultimate safety at every level." Raymond Goss, President – R. J. Corman Railroad Company
The R. J. Corman Railroad Company was represented at the award ceremony of the Eastern/Southern Regional Meeting in Louisville, KY by Mark Johnson, Trainmaster, and Derek Cooper, Track Inspector.