December 8, 2017
R. J. Corman's First Responders Open House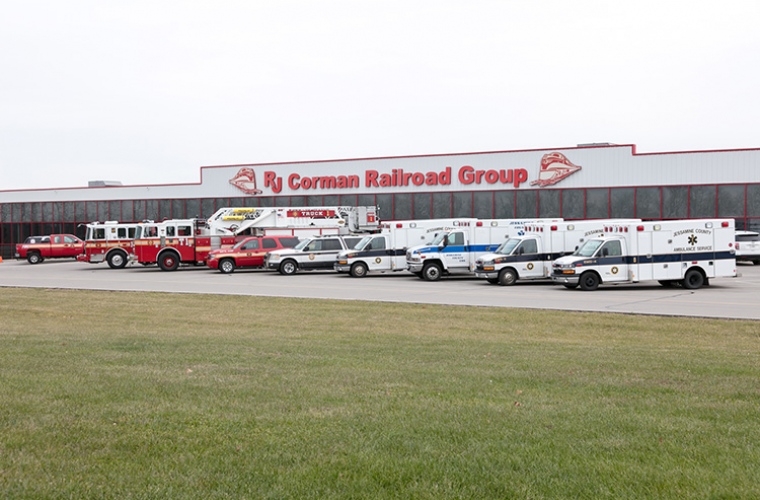 First responders are known for their self-sacrifice, and timely reactions to emergencies. They display grit, compassion and courage. These individuals are parents, siblings, children, and members of our community. They feel called to action, and help protect people every day. That is what makes these individuals so great, and why R. J. Corman decided to host an appreciation open house style lunch for the Jessamine County first responders.
Nicholasville and Wilmore Police, Jessamine County Sheriff's Department, Nicholasville, Jessamine County and Wilmore Fire Departments, and Jessamine County EMS were all invited to attend. The Jessamine County Fire District has continued its proud history of volunteer service to the county. It is comprised of sixty members, seven stations, and 19 apparatus. The Nicholasville police department has 59 sworn officer positions and 10 non-sworn personnel. Jessamine County Sherriff's Office and EMS are all very involved with the community, and the Wilmore departments have put in years of hard work as well. R. J. Corman wanted an opportunity to say thanks and give back to those who give so much of their time and energy, and we were grateful to those who could make it.
We had 77 first responders visit and enjoy lunch, and many of our employees helped with the open house. Our employees volunteered to serve food, refill drinks, clean tables and donate dessert for the event. We also took an additional 35 meals for first responders who couldn't join for lunch. Thank you to all of the first responders who joined us, and thank you for your service to our county!