September 26, 2017
Representative Sal Santoro Visits R. J. Corman Headquarters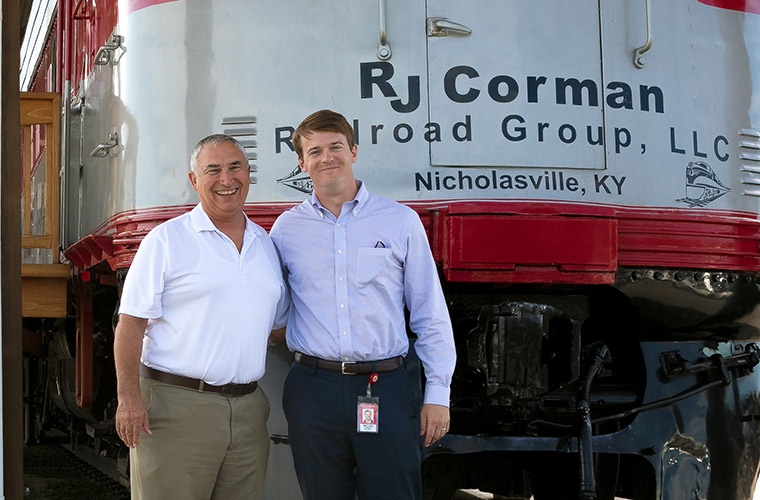 Yesterday, Representative Sal Santoro visited R. J. Corman headquarters in Nicholasville, Kentucky to join us for Operation Lifesaver's first annual Railroad Safety week. Representative Santoro is the Co-Chairman of the Budget Review Sub Committee on Transportation. He also has a young grandson who loves trains, so he understands the importance of educating the public, especially children, on how to be safe around railroad tracks and trains.
During his visit, Representative Santoro spoke with R. J. Corman's CEO, Ed Quinn, along with William Downey, our Government Affairs and Economic Development Manager. They discussed the economic impact of maintaining our rail infrastructure in the state. This helps attract businesses to Kentucky, and allows existing businesses to expand their operations by having the means of transportation they need for their products to be shipped and received in a safe, timely, and cost effective way by utilizing the railroads. They also discussed the impact trains have on freight movement in Kentucky. Some of the moves mentioned were the sand trains that ship from Nugent Sand in Louisville and the aluminum trains that ship from Novelis in Berea, Kentucky. These trains keep thousands of trucks off Kentucky roadways, making the roads last longer and safer for the public. Along with the meeting, Representative Santoro went on a tour of the R. J. Corman Headquarters to learn about the wide range of services we offer to the railroad and related industries.
We are grateful for the opportunity to meet with Representative Sal Santoro, and we enjoyed giving him a tour of our campus. Thank you for joining us for Railroad Safety Week!