August 13, 2018
Representative Santoro Visits R. J. Corman to Meet with Central Kentucky Policy Group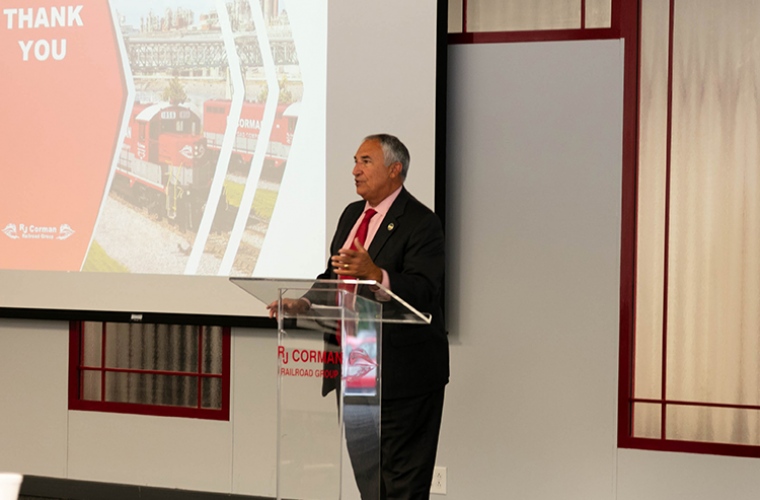 On August 2, Representative Sal Santoro visited R. J. Corman Railroad Group once again. Last year when he visited, he came during Railroad Safety week, but this year, he came to meet with the Central Kentucky Policy Group which was hosted at R. J. Corman headquarters. The Central Kentucky Policy Group is spearheaded by Commerce Lexington and represents an eight-county region in central Kentucky. It is represented by local chambers, economic development officials, utility companies, businesses and manufacturers, and higher education representatives in the eight-county region. The group sets the policy agenda for the region at both the federal and state level.
The 45G short line tax credit has been included in our federal agenda for several years. William Downey, the Government Affairs and Economic Development Manager, represents R. J. Corman Railroad Group in the policy group and advocates on behalf of infrastructure and transportation issues within the region. Downey gave a presentation on R. J. Corman Railroad Group, and expanded specifically on its short line railroads in Kentucky, including the R. J. Corman Central Kentucky Line, which serves several communities that are represented within the policy group. He also touched on key customers of the line, the 45G tax credit, the safety and economic impact of highway diversion of truckloads to rail, and the importance of railroad crossing funding.
Following Downey's presentation, Representative Sal Santoro spoke on behalf of House Bill 609, which he sponsored in the most recent legislative session, and will push for again in the 2019 session. The bill, which creates a multi-modal fund for infrastructure projects for airports, river ports, public transit, and railroads, would allow for infrastructure improvements that are critical for public safety and impact local economic development.
R. J. Corman enjoyed hosting the Central Kentucky Policy Group and appreciated having Representative Sal Santoro back at headquarters.