November 5, 2018
R. J. Corman Railroad Company, LLC Announces Acquisition of the Nashville & Eastern Family of Companies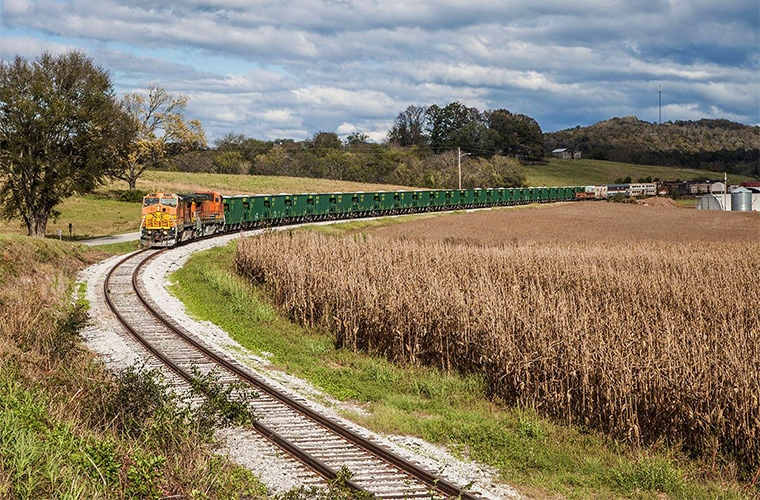 NICHOLASVILLE, Ky – R. J. Corman Railroad Company announced the finalization of an agreement to acquire the Nashville & Eastern Railroad Corp. (NERR), Nashville & Western Railroad Corp. (NWR), Transit Solutions Group, a commuter rail operation, and three related operating entities. The closing is subject to customary regulatory approvals, and R. J. Corman is expected to take over operations in January 2019.
The Nashville & Eastern family of companies were founded in 1986, marking the beginning of the restoration of the freight rail operations in central Tennessee. In that year, William Drunsic, president and founder, worked alongside his partners to lease approximately 110 miles of nearly abandoned track from the Tennessee Department of Transportation and the Nashville and Eastern Railroad Authority, forming the NERR. In the years since, Mr. Drunsic has invested millions of dollars in infrastructure repairs and improvements, started up operations of the 18-mile NWR, and initiated commuter rail service on the Music City Star.
"This acquisition is a big step in our company's goal of growing in our core competencies," said Ed Quinn, President and CEO of R. J. Corman Railroad Group, LLC. "The Nashville & Eastern family of companies have an incredible reputation in the short line industry and with their customers. We are excited to bring these companies and their team of talented employees into our brand and to continue to serve the customers with safe and efficient operations. The foundation of the company, and its growth through the years, is impressive and we look forward to working together to build on the legacy and continue to grow into the future."
The NERR is a 130-mile railroad, operating on leased track from the Nashville and Eastern Railroad Authority from Nashville to Monterey, Tenn. The NWR is an 18-mile railroad, operating on leased track from the Cheatham County Rail Authority from Nashville to Ashland City, Tenn. Together, the NERR and NWR transport 12,000 carloads annually, interchanging with CSX in Nashville. They haul a diverse commodity mix, including chemicals, aggregates, waste, paper, energy products, metals and building materials, and have developed industrial transload facilities on both short lines. The Transit Solutions Group, which operates the Music City Star, transports nearly 300,000 passengers annually, and offers point-to-point transportation from Nashville to Lebanon, with stops in several cities along the route.
"After 32 years of dedicated efforts to build a viable operation in middle Tennessee, it was time for my family to step aside and make way for a larger organization, in order to best capitalize on all of the expanding opportunities on the horizon. Though our departure comes with a great deal of emotion, we could not be more excited about bringing R. J. Corman into the picture," stated Bill Drunsic, Chairman of the Nashville & Eastern and Nashville & Western Railroads. "They have an impeccable reputation within the industry, have an extremely wide breadth of capabilities and they bring a great deal of familiarity working within the state of Tennessee. We are confident our authorities, our customers and the communities in which we operate will be very well served going forward. It has been a great run and we wish them all the success in the future."
R. J. Corman Railroad Company, LLC operates 11 short line railroads in nine states, including Tennessee, and is a subsidiary of R. J. Corman Railroad Group, LLC. Altogether, the company employs more than 1,300 people in 22 states. In addition to short line railroad and switching operations, R. J. Corman companies provide a broad scope of services to the railroad industry such as emergency response, track material distribution, track construction, signal design and construction as well as building eco-friendly locomotives.
For more information about the company, visit www.rjcorman.com or call 859-881-7521.