December 6, 2017
R. J. Corman Railroad Group, LLC Announces New Apprenticeship Program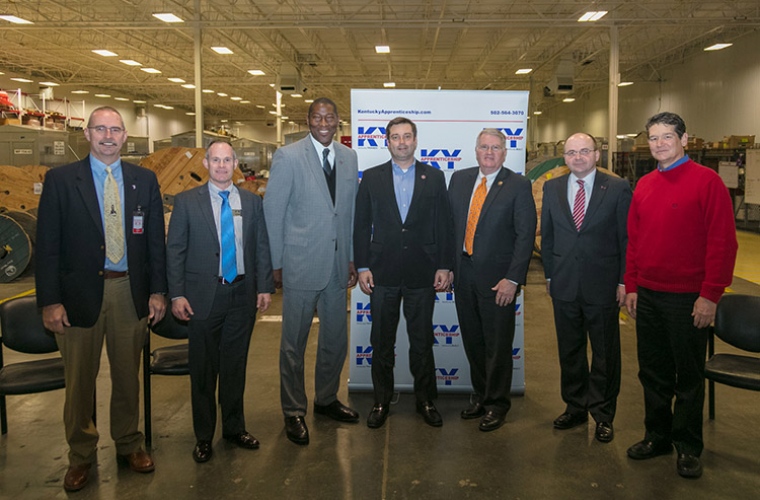 R. J. Corman Railroad Group is pleased to announce a partnership with the Kentucky Labor Cabinet to create an Apprenticeship program. R. J. Corman seeks to continue investing resources into people, and it is expected that this program will help with the recruitment and retention of new employees.
"As a family owned, Kentucky based business, we are pleased to work with the Department of Labor to continue to create opportunities for the citizens of the Commonwealth," said Ed Quinn, President and CEO of R. J. Corman Railroad Group. "We believe that by investing in people, we can contribute to the workforce development of our state."
The program will begin at the beginning of 2018 as R. J. Corman and the Labor Cabinet work to develop a curriculum. Recruiting efforts will begin by working with local high schools, but will also be focused toward U.S. military veterans. Once selected, an apprentice will work with a skilled journeyman to further instill knowledge and experience. After the apprentice has completed the four years required, they will receive their journeyman certificate. R. J. Corman Railroad Group currently employs a shop staff with many years of experience and industry knowledge in machining, welding, and fabrication. Another area with potential for the program is through their growing Signaling company, which designs, builds and installs a variety of signal systems for the railroad industry. These will be the first areas of emphasis for this program, which is anticipated to continue to grow and expand to different companies and positions within the R. J. Corman brand as opportunities arise in the future.
"In Kentucky today, employers are facing a shortage of a skilled workforce," said Labor Secretary Derrick Ramsey. "Registered Apprenticeships are the answer to this problem and businesses like R. J. Corman are reinforcing their commitment to develop and retain more highly-skilled talent through these programs. I applaud R. J. Corman for taking steps to bring more opportunity to their region and I look forward to the success this apprenticeship will bring to Nicholasville."
Altogether, R. J. Corman Railroad Group employs more than 1,500 people in 22 states. R. J. Corman companies provide a myriad of services to the railroad industry such as: short line railroad operations, industrial railcar switching, emergency response, track material distribution, track construction, signal design and construction, railroad worker training and building eco-friendly locomotives.
For more information about the company, visit www.rjcorman.com or call 859-881-2400.