May 1, 2020
R. J. Corman Railroad Group, LLC Announces Noel Rush's Retirement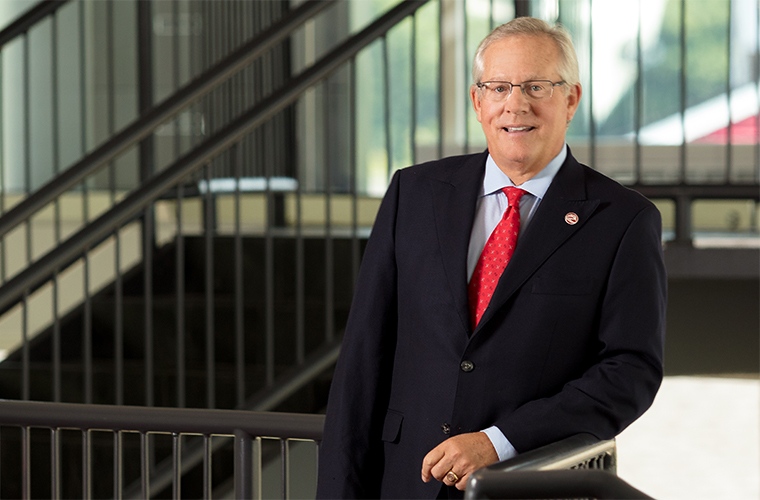 NICHOLASVILLE, Ky – R. J. Corman Railroad Group, LLC today announced that Noel Rush, Senior Vice President, is retiring after serving with the company for over 23 years.
Noel Rush joined R. J. Corman in 1997 and has held many integral positions at the company. He served as President of the Derailment Services Company, Vice President of Finance & Administration, Vice President of Risk Management, and Senior Vice President of Commercial Development before taking on the position of Senior Vice President. Prior to serving R. J. Corman, Noel was the Vice President and Director of Railroad Finance for National City Bank of Kentucky. Noel's impact at R. J. Corman over the years has been profound to say the least.
The Derailment Services Company experienced a remarkable amount of growth under Noel's leadership. He was instrumental in the conception and development of the company's Storm Team. Between 1997-2000, R. J. Corman Derailment Services opened eight new divisions under Noel's leadership. The company also performed its first major hurricane response after Hurricane Floyd in North Carolina. Noel worked in tandem with company founder, Rick Corman, on this great undertaking that launched the Storm Team forward. Between 2001-2006, the Storm Team responded to a historic blizzard in New York, Hurricanes Charlie and Ivan in Florida, and the impact of Hurricane Katrina on the Gulf Shore, rebuilding 43 miles of mainline rail in just a few months. Noel's visionary foresight and resolute decision-making abilities were essential for the success of these expansions and emergency responses.
Noel's background in finance and commercial banking became a great asset to the company when he served as Vice President of Finance & Administration and then as Vice President of Risk Management. In these roles, he positioned the company for further growth and expansion by creating goals and strategies for investment objectives.
As the Senior Vice President of Commercial Development, Noel continued to build the company's capacity for business growth. He was essential in cultivating a Commercial Development team that understands how to embrace the future while building on the past which is one of the company's leadership principles. Noel then transitioned to Senior Vice President, working closely with the President & CEO to develop and implement the company's long-term strategies and oversee the company's executive relationships and government affairs.
Furthermore, Noel has served as an example to many aspiring young leaders at R. J. Corman. He is known for his ability to be decisive in both operations and administration. He is respected as a professional with keen business savvy and as a man who shares with his co-workers the pride of the R. J. Corman brand for providing the highest quality service.
"It has been an honor to work alongside Noel Rush over the past many years, and we would not be where we are today without his leadership," said Ed Quinn, R. J. Corman President & CEO. "He has been with our company through the highs and lows, and his career has influenced a time of extraordinary growth at R. J. Corman. Noel has a deep understanding of our operations, capacity, and potential as well as the core values that have shaped our organization. He has embodied loyalty and love of the company, and we will miss his leadership and steadfast personality. On behalf of R. J. Corman, we all wish Noel the best in his retirement."