September 19, 2022
R. J. Corman Railroad Services Emergency Displays Incredible Talent in Staged Derailment for MxV Rail's New Training Site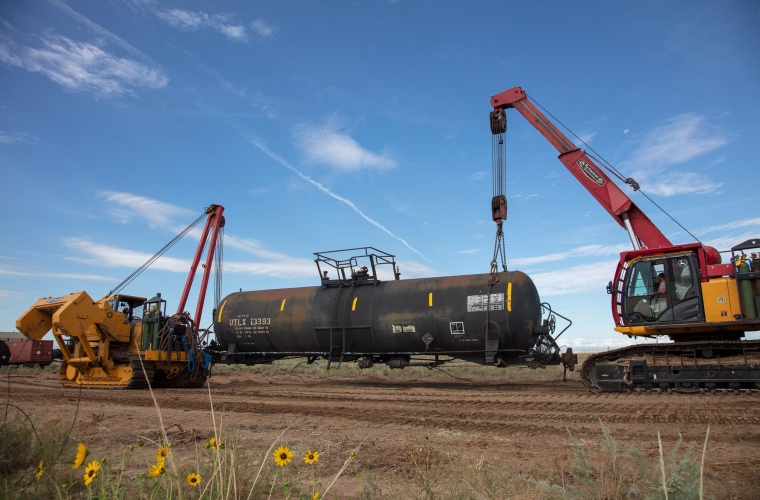 In 2021, MxV Rail, a wholly owned subsidiary of the Association of American Railroads (AAR) and the leading testing and research facilities in the railroad industry, announced that they would relocate to new facilities a couple of miles south of their previous site. In a press release, the organization headquartered in Pueblo, Colorado, said that the company needed to move an estimated $75 million-$100 million in assets to support all facets of operations at their new facilities, offices, and laboratory space.
On top of material testing and other research and development for the railroad industry, MxV Rail (formerly known as TTCI Inc.) also helps train thousands of first responders on how to respond to derailments of hazardous materials (Hazmat) through their Security and Emergency Response Training Center (SERTC) by staging real-life scenarios, like derailments with chemical spills and fire. This move meant that they had to transfer all their equipment, from rail tank cars and intermodal and highway containers to other smaller assets.
MxV Rail asked our R. J. Corman Railroad Services Emergency team to help them in their relocation. Utilizing their heavy machinery and tremendous skills, divisions from Kansas City, Scottsbluff, and St. Louis began on August 8, 2022, helping move 50 tank cars, several containers, and other rail equipment. They took the cargo from the previous location to the flat cars that would take them to the new site. After that, R. J. Corman Railroad Services Emergency's team unloaded and restaged the training cars in the new area. "U-Haul didn't have a tow dolly big enough, so we had to enlist the help of R. J. Corman to get our rail cars to the new facility," MxV Rail said jokingly on their SERTC Facebook page.
Another important aspect of this project is constructing MxV Rail's new testing loop. MxV Rail will use this loop for freight and passenger rail testing programs such as truck testing, performance testing for new rail technologies, and qualification testing for rolling stock. R. J. Corman Railroad Services Construction team was engaged to build their largest test loop. This loop is a 5.8-mile Class 6 high-speed rail loop (HSL). That means it is a track specially constructed for testing freight and passenger trains traveling up to 110 mph. This construction will start in late September of 2022 and is expected to be completed by early November.