November 7, 2018
R. J. Corman Storm Team: Responding to Hurricane Florence, and Michael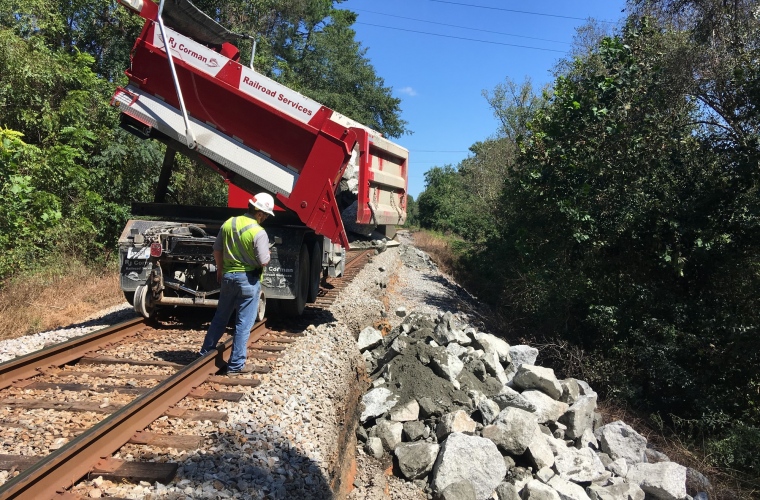 Early in the morning on Friday, September 14, Hurricane Florence made landfall in South Carolina. Despite the once Category 4 storm being downgraded to a Category 1 before it struck the coast, Hurricane Florence brought winds strong enough to uproot trees and cause power outages. Then, it stalled over the Carolinas. The storm brought heavy rains that dumped up to 30 inches in some areas, and widespread flooding was seen as the storm moved inland.
R. J. Corman Storm Team had begun assembling crews and equipment on September 10, well in advance to prepare for Hurricane Florence, which brought significant damage to North Carolina, South Carolina, and Virginia. After the storm settled, and flood waters began to recede in some areas, R. J. Corman began work for both Norfolk Southern and CSX to restore track.
At the height of the projects, the storm team had 140 employees in the field with 8 rotary dump trucks, 8 hi-rail trackhoes, 8 grapple trucks and 600 generators. R. J. Corman's Storm Team was supported by their Railroad Services, Material Sales, Signaling, Group and Railroad Company. They also won the bid to repair CSX's most damaged line, their Wilmington Sub in Wilmington, North Carolina. R. J. Corman worked on the entire line, repairing multiple washouts by filling in needed rock and dirt, replacing ties, and surfacing the track. There were also over 1,000 trees that had to be cleared.
R. J. Corman Storm Team then began the transition to respond to another hurricane that would make landfall in the United States on October 10. Hurricane Michael made landfall as a high-end Category 4 hurricane, with maximum sustained winds of 155 mph. Damage from this storm was seen across a 100-mile span, from Dothan, AL to Panama City, FL.
R. J. Corman Storm Team started work in two phases. The first job was to remove trees and repair washouts on over 300 miles of track, and the second was to re-rail over 100 railcars. Over 50 employees were utilized for both projects, along with hi-rail track hoes, rotary dumps, grapple trucks, and other specialty equipment. Along with rail repairs, R. J. Corman provided generator assistance to customers to assist shops, buildings and crossings.
On November 6, all Storm Team efforts for both hurricanes had been completed. Not only was the work for both Storm Teams completed efficiently, on-time and of high quality, but there were no injuries or lost time incidences.