July 19, 2022
Governor's Scholar Program Visits R. J. Corman Campus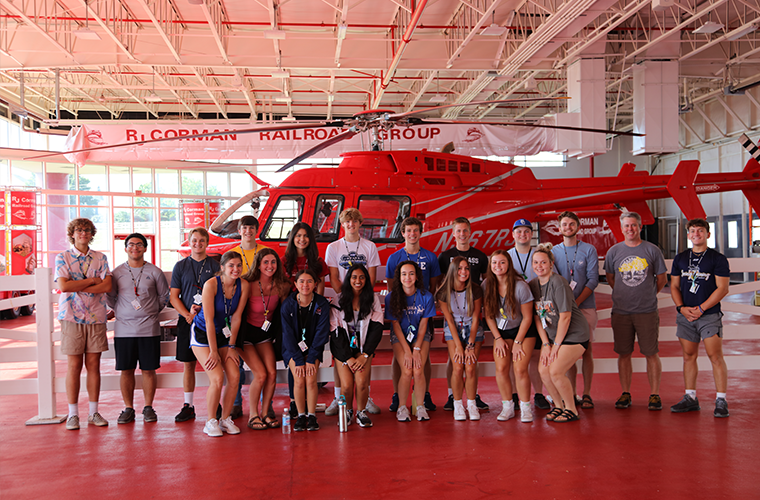 On Friday, July 15th, 19 of Kentucky's brightest rising high school seniors got the opportunity to visit the R. J. Corman Headquarters through the Governor's Scholars Program (GSP), a summer residential program for outstanding high school students in the state. The Program's mission is to enhance Kentucky's next generation of civic and economic leaders. GSP takes place at Morehead State University, Centre College, and Bellarmine University and hosts 1,400 Kentuckians between the three schools.
"GSP at Centre College reached out to us, and upon their request, I partnered with our Finance and Accounting leaders as this would be a great opportunity for our company to connect with local high school talent," said Matt Murray, R. J. Corman HR Business Partner Manager who helped coordinate the visit and led the tour.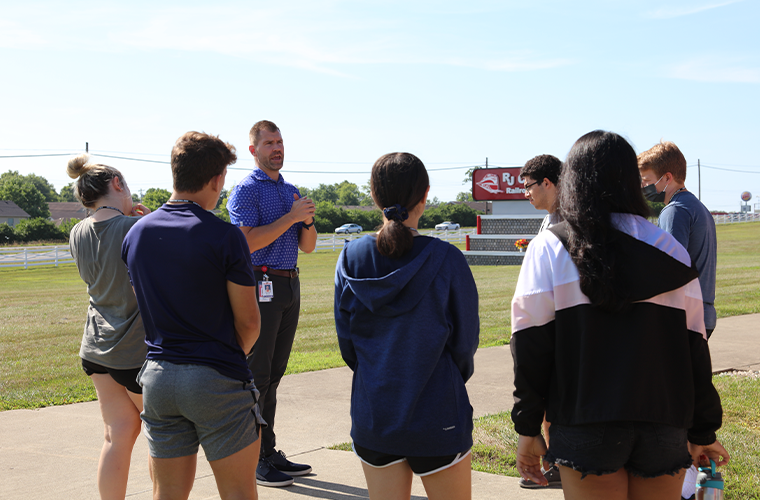 ​
Matt Murray sharing about our company's history.
"The goal of hosting these GSP groups is to share Mr. Corman's story and our personal career experience to empower and invest in our future leaders, as well as expose them to what R. J. Corman is all about," said Murray.
"With this group's focus on business accounting and entrepreneurship, there was no better place to go than R. J. Corman, considering its story. It is good for the students to see you can be a part of a corporation and be successful without going to a 'big city,'" said Michael Spears, a faculty member of the Governor's Scholar Program.
R. J. Corman has a long-standing and has hosted field trips for the 'Business Accounting & Entrepreneurship' course students for the last eight years before the pandemic.
The students started with a campus tour, beginning at the depot, then going to Hangar 1 where they saw the helicopters and Rick Corman's old truck. The scholars followed Murray to Hangar 2, where they saw the gym, cafeteria, and training room. That is when Aaron Hughes, Sr. Director of Financial Planning & Analysis, and Brandon Gardner, Director of Tax, gave a presentation on the company and their personal experiences and answered questions about internships, resume building, and college major choices.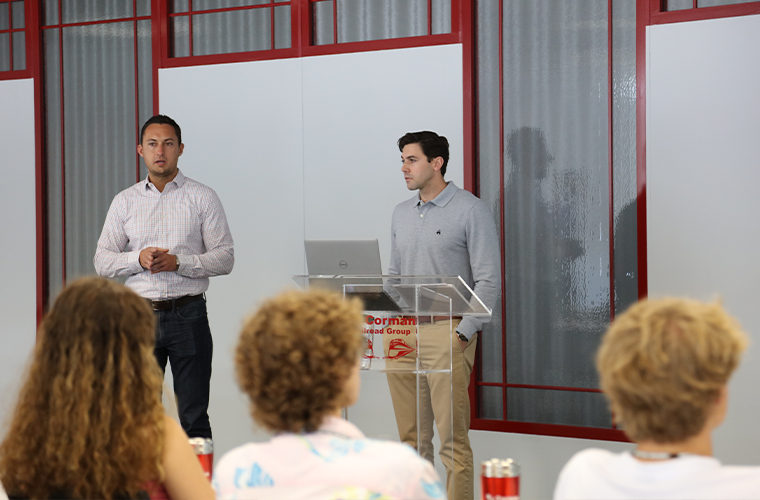 ​
Aaron Hughes and Brandon Gardner shared about their career paths.
With these students getting ready to enter their senior year of high school, some are still deciding where they want to go to school, let alone their major. "This is a great opportunity for them to see what they are interested in and what they might want to pursue," added Spears.
A great example of this is Avery Tucker, an upcoming senior at Lyon County. "Because I am still undecided on college and what major I want, seeing this has spiked an interest in accounting and finance, honestly business in general," said Tucker. "This has been very helpful to me and the rest of us here; none of us have seen anything like this. It's incredible!"