July 3, 2018
High Schoolers Shadow at R. J. Corman Headquarters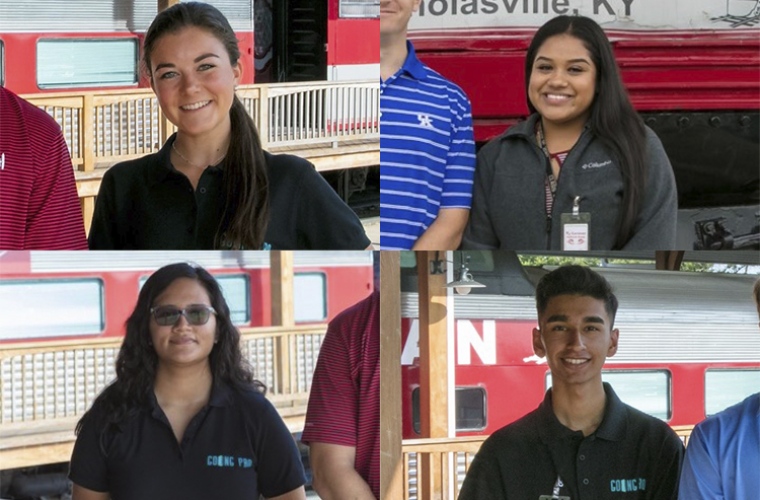 R. J. Corman Railroad Group was a sponsor for a new program started by Leadership Lexington. The program is "Going Pro: Opening the Doors to Your Future" and was a yearlong endeavor where Leadership Lexington fundraised, created a curriculum, and recruited 30 high school students in Lexington from various backgrounds to participate in the program. All of the students were rising seniors and planning to continue their education. The purpose of the program was to open the door and provide access to businesses and networking for students who may not otherwise have those opportunities.
Going Pro began with two days of business skills training workshops, which included topics on personal finance, dress for success, elevator pitches, résumé writing, and an etiquette luncheon. From there, the students signed up for mentor sessions with various businesses and industries in the region. R. J. Corman agreed to host four students, Niran Chattha, Susana Torres, Anna Gilligan and Paola Sumuano, at their headquarters where they job-shadowed William Downey, the Government Affairs and Economic Development Manager, each on a different day in June or July.
While on campus, they were given an overview of R. J. Corman Railroad Group as well as each R. J. Corman subsidiary, all of which combine offer services ranging from short line and switching operations to track construction and maintenance, emergency response services, and material handling and distribution. They were also shown the documentary "Working Hard to be Lucky" which highlights the life and achievements of the company's founder, Rick Corman, to give them some insight on his legacy.
Next on the tour they met with various employees in different departments to learn about the company, its various positions, jobs performed, and capabilities. They saw the material yard, the various mechanical shops at Jay Station, and then stopped in the decal shop to see all of the design and decal work. Also, they briefly visited the Signaling shop and warehouse where they learned of the apprenticeship program.
Finally, they learned about our core values, or "Big Rocks", that Mr. Corman put in place, which are the foundation of the company: Safety, Customer is #1, Look Good, Efficiency = Work Smart, and Fair and Respectful Treatment.
The visits went extremely well, and the students were given great exposure to the railroad industry. They had the opportunity to learn about the importance of transportation and infrastructure and broadened their knowledge about R. J. Corman Railroad Group. The students that came through were impressive in their goals and visions, and R. J. Corman looks forward to seeing where these individuals go in the future.