December 5, 2017
Kentucky's Secretary of Transportation Greg Thomas Visits R. J. Corman Headquarters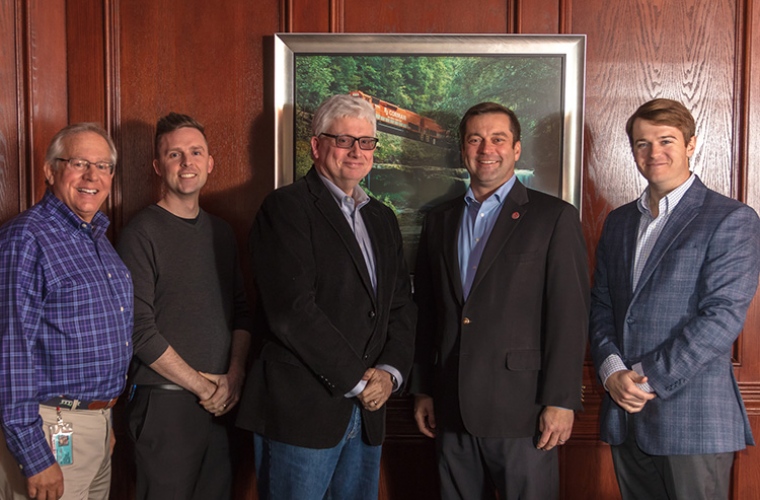 R. J. Corman had the pleasure of hosting Kentucky Secretary of Transportation Greg Thomas and his Chief of Staff Asa Swan at headquarters on December 5th. They had the opportunity to tour the campus and stopped by the shops to see the employees at work and the day to day functions of the facilities. After the tour of the grounds and buildings, Secretary Thomas and his Chief of Staff were joined for lunch by President and CEO, Ed Quinn, and Senior Vice President of Commercial Development, Noel Rush.
There were many significant topics discussed in the meeting, the first being the importance of railroad infrastructure to Kentucky as a means of multi-modal transportation, which is the transportation of goods with at least two different modes of transport such as rail, water, air or road. They discussed the impact railroad access has on economic development recruitment efforts for new industries, and the possibilities of creating a multi-modal transportation fund to include railways, airports, river ports, and transit.
Also discussed was the overweight truck bill that was passed in earlier this year that allowed semi-trailers carrying a metal commodity to increase the max weight they can carry by 50%. This bill had a huge impact on both our roadways and the railroad business, and caused concern about safety and increased wear and tear on the roads.
We are grateful to have hosted the Secretary of Transportation, Greg Thomas, and to have had the opportunity to discuss topics of growth and change with us.