November 22, 2021
R. J. Corman Memphis Line Awarded the 2021 Short Line of the Year Title by Railway Age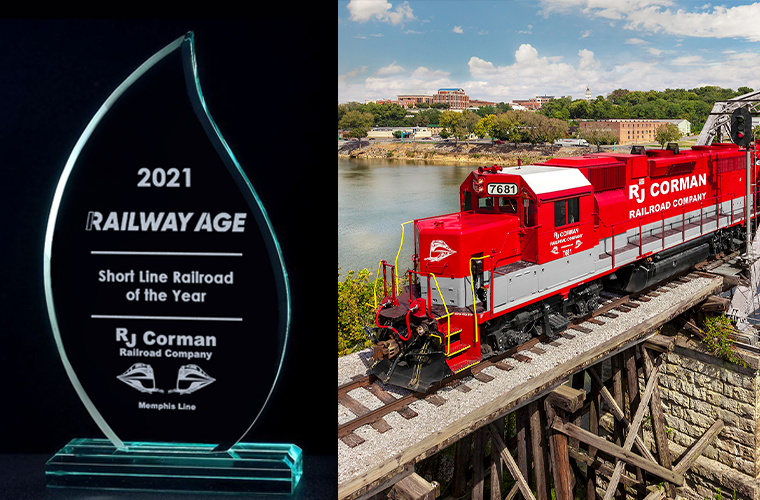 The R. J. Corman Memphis Line (RJCM) had the great distinction of being recognized as the Short Line of the Year by the Railway Age magazine.
R. J. Corman's second-oldest short line presented its 2020 achievements, including its ability to adapt to the new realities of an unpredictable market hit by a worldwide pandemic and substantially growing carloads and infrastructure while building stronger relationships with customers.
Railway Age's Short Line of the Year award is given to the best example in the industry of outstanding achievements in areas such as turnaround situations, consistent excellence, innovation in operations or maintenance, marketing; customer service; enhanced productivity; community relations; safety improvement, and ingenuity in dealing with the unexpected.
RJCM has solidified and strengthened a bond with its customers throughout the years. However, 2020 presented an unprecedented reality that shook the markets and created a perfect scenario to test those relationships by executing a strategic plan and exploring new creative ideas for growth.
The RJCM in 2020 produced record-setting carload volume with several key customers. In addition, it created new efficiencies in service with technology advancements, invested more than $5.5 million in infrastructure, and joined forces with Class I partners in innovative ways to dramatic effect.
"The business opportunities and obstacles—in terms of reach or of geography or product movement—may differ. But the entrepreneurial spirit of our honorees impacts customers large and small, making efficient business, and business growth, possible with the most efficient surface transport mode: rail," said Railway Age Executive Editor Marybeth Luczak.
The Short Line of the Year Award was presented to the R. J. Corman Memphis Line during the ASLRRA Annual Conference on November 18. In addition, the RJCM was honored to be featured in Railway Age's November issue in an in-depth article.