May 26, 2020
R. J. Corman Railroad Group Hosts Graduation Parades for Local High Schools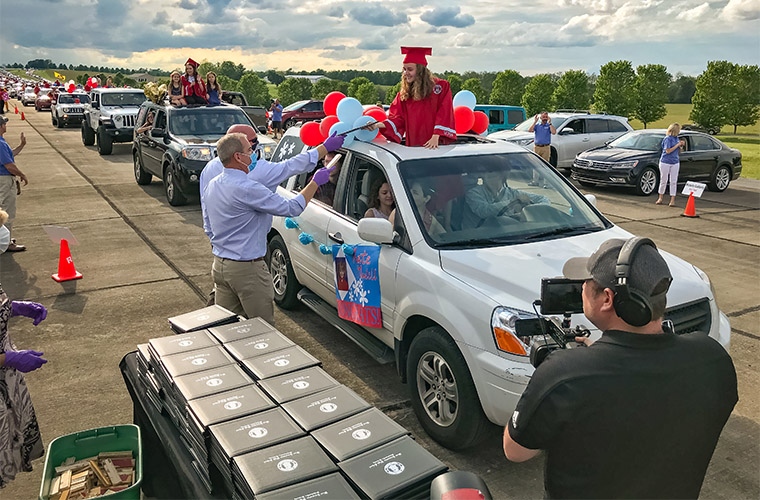 One of the rites of passage for high school seniors is graduation day. Four years of hard work, determination, and a lot of fun along the way is typically celebrated with walking across the stage in cap and gown to receive the much-earned diplomas. This year COVID-19 has changed life as we know it for the time being. Yet, leadership from the Jessamine County School system in Kentucky initiated plans with R. J. Corman to ensure that local high school seniors had ceremonies to be remembered from this year. The need for social distancing to keep communities safe meant that packed high school gymnasiums were not an option, but the "project graduation parade" team came up with something special for graduates in the county where R. J. Corman is headquartered.
On Friday, May 22, R. J. Corman opened up part of the 2,000-acre grounds at the company headquarters in Nicholasville, Ky for The Providence School, East Jessamine High School, and West Jessamine High School to celebrate graduation with processions by car. Jessamine County School leadership worked hard to come up with this great idea to commemorate their seniors' accomplishments. It was a little different than the traditional ceremony, but seniors were able to celebrate their graduation day with classmates and loved ones present in a way that kept everyone safe.
"We were heartbroken for our seniors when we learned that traditional graduation ceremonies would not be possible this May. We have a responsibility to protect the well-being of our students and also to follow the guidance on mass gatherings from Kentucky Governor, Andy Beshear and public health officials," said Jessamine Superintendent Matt Moore. "We were determined to do everything possible, under the current circumstances, to make a ceremony special and memorable for our graduates. R. J. Corman jumped on board immediately to help make this happen, and we were thrilled to partner with them for this event.
Instead of walking the stage, graduates donned caps and gowns and decked out their personal vehicles with balloons, banners, and window paint to caravan in a one-of-a-kind experience. At each ceremony, the R. J. Corman helicopter performed a flyover to kick off the parade. Local police trucks led the way with red and blue lights blazing. The graduates drove through a scenic 3-mile loop that circles the natural preserve on the company's grounds. As a finale, the grads drove across the R. J. Corman aircraft runway, passing under a congratulatory banner held by the towering ladders of Jessamine County and Nicholasville firetrucks. Along the runway, spectators were lined up in their vehicles cheering the grads on as they received their diplomas drive-through style! Local radio station, JESS-FM 105.9, broadcasted each school's ceremony, with remarks from Jessamine County School Superintendent Matt Moore, school principals, and senior class representatives. Each graduate's name was announced on the air.
It was an honor for R. J. Corman to host these creative graduation ceremonies. Company founder, Rick Corman, graduated from Jessamine County High School in 1973 (before the school was split into East/West). The company knows from experience that young people from Jessamine County can achieve great things!
R. J. Corman President and CEO, Ed Quinn, remarked "Our company was pleased to host the celebrations for these students' accomplishments which they completed during an unprecedented time in history. Our youth will be the leaders of the future. We want our graduates to know that we are proud of them and stand behind them. One of our company's leadership principles is building the future while embracing the past. While the future may look uncertain for many right now, we wanted to honor the foundations that these students built over the past four years and encourage them to move bravely forward."
Superintendent Moore echoed the public support for the Class of 2020, saying, "We have an incredibly close-knit community and we know that Jessamine County is 100% behind these graduates. We thank R. J. Corman for helping us to honor our graduates in this unique way. We hope that the parades have provided our graduates with a truly unforgettable experience."