April 19, 2017
R. J. Corman Railroad Services, LLC Hosts Congressman Mike Bost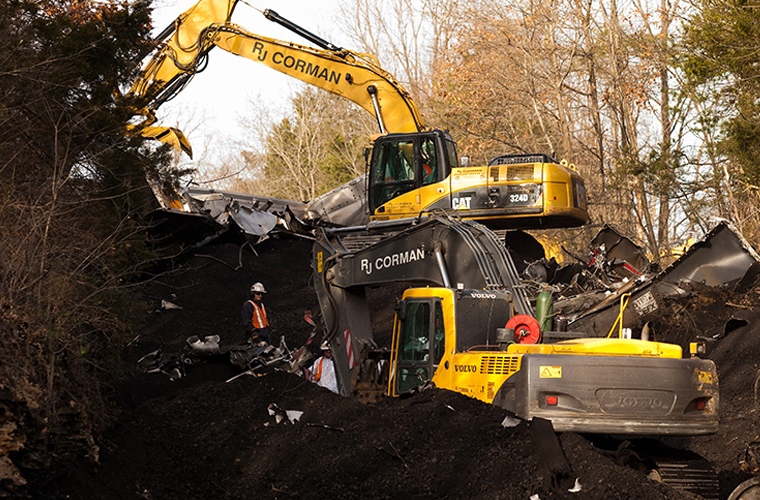 CASEYVILLE, Ill. – Today, U.S. Congressman Mike Bost (R-IL-12), a member of the House Transportation & Infrastructure Committee, visited R. J. Corman Railroad Services' Caseyville emergency response division in Caseyville, IL. The event was jointly coordinated by National Railroad Construction and Maintenance Association (NRC) and the Railway Engineering-Maintenance Suppliers Association (REMSA). Also in attendance were: Lindsey Collins, VP of Grassroots Advocacy, NRC; Sean Winkler, Director of Advocacy, REMSA, Mike McCarthy, President, Terminal Railroad Association of St. Louis; and Asim Raza, Chief Legal Officer, Terminal Railroad Association of St. Louis.
The facility tour was led by Nathan Henderson, President, R. J. Corman Railroad Services, LLC and focused on discussing pressing rail and manufacturing issues with various rail stakeholders. The Caseyville, IL division has over 40 employees and 50 pieces of heavy machinery. The division provides an array of services to one of the most dense rail network regions in the U.S., including emergency response re-rail services, maintenance of way services, and small-scale rail construction jobs. Illinois' 12th district is home to East St. Louis, the third busiest rail hub in the United States.
"It was a privilege hosting Congressman Bost, a leading infrastructure advocate, and sharing with him our commitment to providing railroad services in southern Illinois," Henderson said. "We are focused on constantly improving the safety of our nation's rail network and working with communities to rapidly respond to incidents when they occur. Safety is R. J. Corman's number one priority and we were pleased to share this mission with Congressman Bost and the representatives from NRC, REMSA, and the Terminal Railroad Association of St. Louis."
The group discussed regulatory initiatives issued by the Surface Transportation Board (STB) on reciprocal switching and commodity regulation. These efforts risk creating major inefficiencies in the national freight network and artificially creating government-mandated price caps. These efforts would lead to reduced capital investment in freight rail which is critical to supporting high-paying rail construction and supply jobs throughout the United States.