February 24, 2020
R. J. Corman Takes Part in University of Kentucky Engineers Day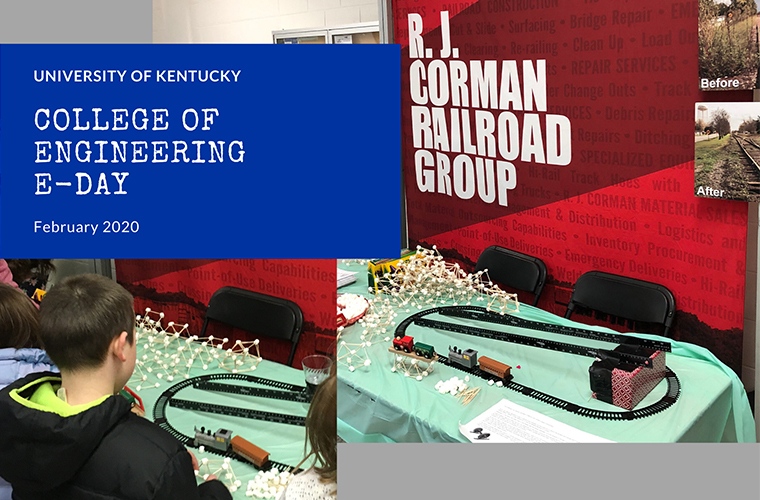 This past weekend, R. J. Corman taught local students from elementary age through high school about what it is like to think like a railroader. Parents and teachers were also intrigued by the company's booth at Engineers Day (E-Day). This was all part of the University of Kentucky's 2020 E-Day celebration held on the university campus in Lexington.
E-Day is completely free to attendees and "is a celebration of everything engineering has to offer. From building bridges to discovering new medications to writing the software that powers our cell phones, engineers and computer scientists do the things that make our 21st-century world work." Children and the young at heart are often fascinated by trains. Locomotives herald a sense of power, nostalgia, and mystique. R. J. Corman professional, Coran Stewart, invited booth visitors to participate in hands-on STEM (science, technology, engineering and mathematics) challenges to build model rail designs using marshmallows and toothpicks. This engaged learners in some of the design science behind a portion of the nostalgic charm of the rail industry. "It was great to be part of this event and be able to share my excitement around education and learning. Before coming to R. J. Corman I worked in higher education, and I see the value in encouraging young people to enhance their futures by pursing knowledge." – Coran Stewart
Participating in E-Day is just one way R. J. Corman gives back to the local community. The company is supportive of efforts like this that invest in youth by promoting excitement around math and science education. The company was glad to have this opportunity to share its passion for and knowledge about the railway industry.