May 27, 2021
U.S. Representative John W. Rose visits R. J. Corman's Nashville & Eastern Railroad Yard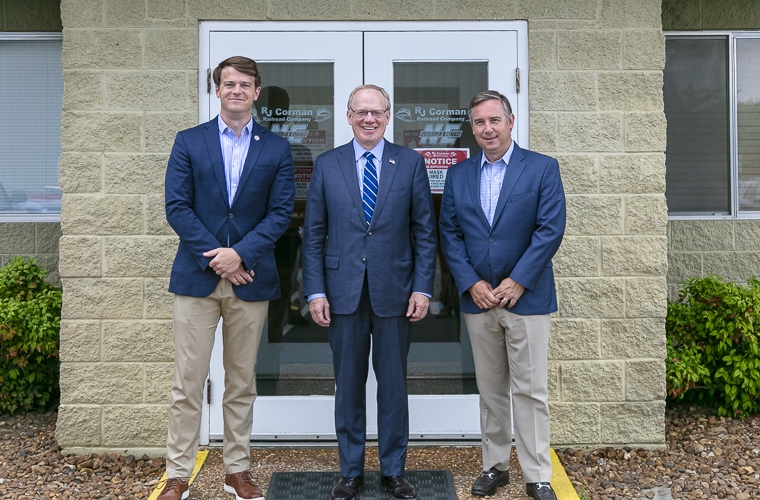 Lebanon, TN - On Tuesday, May 25, a group led by the Representative for Tennessee's 6th congressional district, John W. Rose, visited R. J. Corman Railroad Company Nashville & Eastern Line (NERR) in Lebanon, TN. Rebecca Foster, District Director, and Ray Render, Deputy District Director, both from Tennessee's 6th congressional district, joined Representative Rose for the visit.
The group met with R. J. Corman representatives, William Downey, Director of Government Affairs; Grant Chaney, Director of Commercial Development, Tennessee; Michael Philpot, General Manager of NERR; and Scott Smith, General Manager of Kenwal Steel, Tennessee, LLC., a company that is served by NERR with multiple railcar shipments each week. 
This visit was scheduled as a result of the conversations held virtually in mid-April at the Railroad Day on Capitol Hill, an American Short Line and Regional Railroad Association sponsored event. The R. J. Corman delegation met with Representative Rose and his staff to discuss the company's operations and the importance of short line rail to the economic development efforts in the district.
Items discussed in this meeting:
An overview of R. J. Corman and its operations in Tennessee
A review of the present challenges and resiliency of the different industries in the area
The footprint and history of the Nashville & Eastern line
The current state of policies and funding programs that affect the short line railroad industry
A presentation from Scott Smith about the important role that railroad transportation has in Kenwal Steel's business
The importance of transloading facilities for the sustainable growth of freight traffic in the region
R. J. Corman's operation of the WeGo Star and partnership with the RTA
The impact of railroad presence in the community
"We appreciate Congressman Rose and his staff for their engagement and his support for the short line railroad industry. We look forward to developing our relationship with his office and continuing to play a critical role in the economic growth for the 6th District and the region."
-William Downey, Director of Government Affairs