February 4, 2019
R. J. Corman Railroad Company, LLC and Horry County Government Break Ground on TIGER Grant Project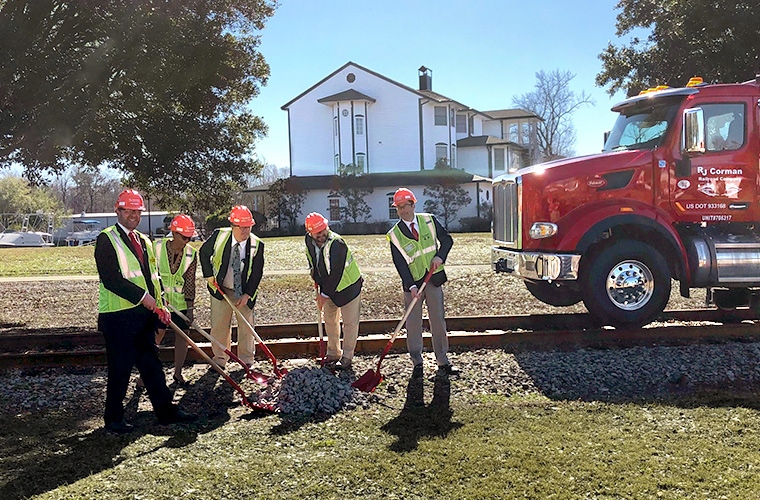 CONWAY, SC - Today, R. J. Corman Railroad Company Carolina Lines and Horry County Government (South Carolina) are breaking ground on Moving the Carolinas Forward: A Rural Freight Rail Project, which will significantly improve the value of rail service to the region. The $17.5 million project, funded by a Federal TIGER Grant as well as significant contributions from South Carolina and R. J. Corman, is expected to be completed over four years. The project will include replacing approximately 60,000 crossties, upgrading nine miles of rail, upgrading nine bridges with a complete rebuild on a 220-foot bridge that spans the Crab Tree Swamp in Conway, SC and rehabilitating 39 at-grade crossings.

R. J. Corman Railroad Company purchased the former Carolina Southern Railroad in August 2015, and subsequently invested more than three million dollars to restore freight service. The R. J. Corman Railroad Company Carolina Lines ran its first train on March 25, 2016, however, due to the disrepair of the track prior to the acquisition, the trains are still limited to 5 and 10 miles per hour. Improving the track, and allowing for higher speed trains, will improve the freight transportation for the local industries and continue to add economic boost to the businesses and communities.

In an effort to provide an opportunity to improve the railroad condition, Horry County Government applied for the Transportation Investment Generating Economic Recovery (TIGER) Grant. The TIGER Grant is awarded to projects that offer: state of good repair, economic competitiveness, quality of life, environmental sustainability, and safety, along with innovation and partnership. Horry County Government was awarded a $9.8 million grant for rail rehabilitation, and has partnered with the South Carolina Department of Commerce, Marion County, SC and Columbus County, NC, to implement the project that will benefit all involved communities.

R. J. Corman intends to rehabilitate the rail to eventually reach speeds of 25 miles per hour and Moving the Carolinas Forward: A Rural Freight Rail Project is scheduled to conclude in the spring of 2022. The project will allow the Carolina Lines to improve efficiency, while continuing to provide safe and reliable rail service to the community. The capital investment permits funds to be focused on track conditions for long-term benefits, rather than temporarily fixing the infrastructure, allowing R. J. Corman Railroad Company to be an effective member in sustaining and developing economic opportunities in the area.

The extensive project will take a considerable amount of effort from R. J. Corman Railroad Company. Upward of 60 R. J. Corman employees will be used at times when tasks demand. They will be utilizing a variety of specialized equipment including tie gang equipment, rail gang equipment, dump trucks, prentice trucks, track hoes, tampers, regulators, and their rail fleet of ballast cars and side dump cars.

R. J. Corman Railroad Company, LLC operates 13 short line railroads and is a subsidiary of R. J. Corman Railroad Group, LLC. Altogether, the company employs more than 1,500 people in 22 states. In addition to short line railroad and switching operations, R. J. Corman companies provide a broad scope of services to the railroad industry such as emergency response, track material distribution, track construction, signal design and construction as well as building eco-friendly locomotives.

For more information about the company, visit www.rjcorman.com or call 859-881-2400.