December 10, 2019
Record Breaking Grain Volumes on the Memphis Line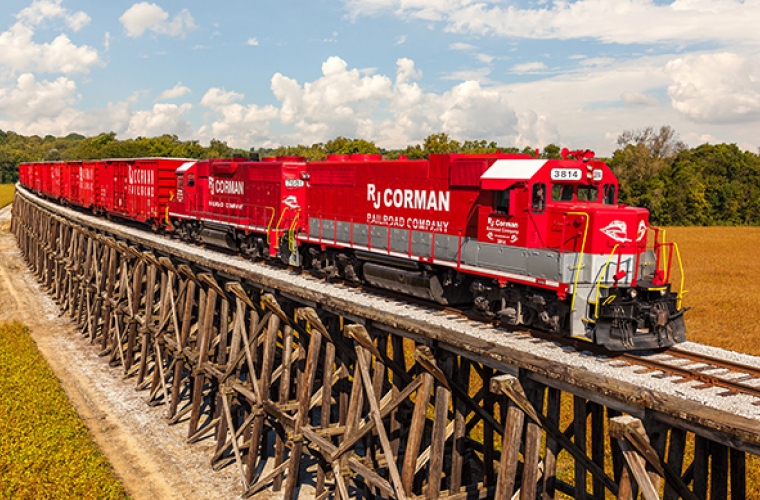 While serving multiple functions, the R. J. Corman Memphis Line is a vital conduit for farm product shipping. This short line railroad has experienced a fantastic season for grain transport this year. The volume of grain received has led to an overall record-setting year.
Locomotives pulling 90-car trains have been arriving to the Memphis Line in the Guthrie, KY location. R. J. Corman crews have a 24-hour window to transport these cars to the Russellville Elevator and the South Union Elevator where corn is loaded before delivering the shipments back to the Class I carrier in Bowling Green, KY. Depending on the order, different volumes of kernels are received from the respective grain elevators. When filled to capacity, a grain car weighs around 100 tons. The time and energy required to move this volume is no small undertaking. R. J. Corman's skilled operators spot up the cars underneath the grain shoots. Good communication and logistical expertise are essential in these transfers.
The Memphis Line has received 45 unit trains so far for 2019, and there is potential to receive more grain trains before the end of the year. The record prior to this was 40 trains, which was set in 2014. September and October broke monthly records when the line received 16 trains in each month. In total, 4222 grain cars have been handled thus far for 2019.
The impetus behind this activity has been corn crops producing exceptional yields this year. Corn is the most typical farm product handled by the Memphis Line. Yet, two soybean orders have been placed this year. R. J. Corman has the resources to operate at increased intensity as well as manage a diversity of goods. Continued orders from customers indicate confidence in the company's abilities to provide the highest quality service and execution. Employees from various R. J. Corman locations have come on site to provide additional manpower during peak times this season. The line has accepted all requests for shipments and has delivered all of them successfully.