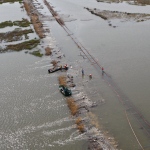 In August 2005, Hurricane Katrina hit the Gulf Coast as a Category 3 storm. At the time, Katrina was the most costly, as well as the fifth deadliest, hurricane in the history of the United States. The massive storm surge caused severe destruction along the Gulf Coast and decimated parts of southern Mississippi.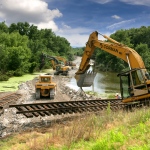 Submerged In the Midwest: R. J. Corman Storm Team Responds To A 500-Year Flood R. J. Corman Storm Team repaired rain washouts in the Midwest in April 2008, but the devastating rains were yet to come. By mid-June of the same year, record breaking rain hit and levees along the Mississippi River started failing with Iowa and Missouri hit the hardest by flood waters. U.S. Senator Chuck Grassley of Iowa was quoted saying "nearly a third of Iowa is already under water and water levels are continuing to rise".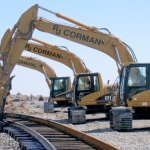 On August 29, 2005 at 6:10 a.m. Hurricane Katrina, a devastating Category 3 storm, slammed into the central Gulf Coast near Buras-Triumph, Louisiana. The 145 mile-per- hour winds and heavy rains created a storm surge that soon breached the levee system protecting New Orleans. In the end, Katrina left 90 percent of the once vibrant city of New Orleans submerged in water. In the days and hours before Katrina hit, most people along the coast prepared to save what they could of their lives. Many fled the coastline on evacuation orders, carrying with them some hope that in a few days they would find their homes still standing. Some stayed and waited for the storm's destruction to unfold; many who stayed behind perished in the storm.